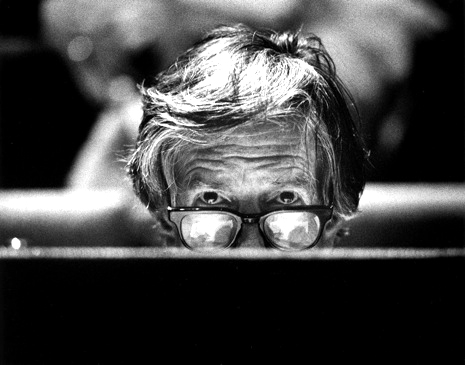 John Cage – Happy 100th – German Radio Concert – Past Daily Mid-Week Concert
Click on the link here for audio player – part 1: John Cage Birthday Concert – Part 1
Click on the link here for audio player – part 2: John Cage Birthday Concert – Part 2
September 5th 2012 marked the hundredth birthday of Avant-Garde/Experimental Composer John Cage. So to mark that occasion, German Radio has been staging celebration concerts all over the country this year. This one, featuring the Southwest German Radio Symphony was recorded on May 6th and, in addition to the music of John Cage also features his contemporaries Pierre Boulez and Morton Feldman. The concert runs a little over 2 1/2 hours so it's broken up over two players.
Here's what's on:
Festival Acht Brücken Köln
John Cage zum 100. Geburtstag

Jean-François Heisser, Klavier
SWR Sinfonieorchester Baden-Baden und Freiburg
François-Xavier Roth

John Cage
Atlas Eclipticalis

Pierre Boulez
Messagesquisse

Morton Feldman
Out of 'Last Pieces'

John Cage
Konzert für präpariertes Klavier und Orchester

Aufnahme vom 6. Mai 2012 aus der Philharmonie

Anschließend, etwa ab 22:00 Uhr:
Morton Feldman
Rothko Chapel für Sopran, Alt, doppelten gemischten Chor, Schlagzeug, Celesta und Viola
Julie Moffat, Sopran
Ulrike Koch, Alt
Südfunk-Chor
Mitglieder des Klangforum Wien
Rupert Huber
If you aren't familiar with the music of Cage, or of the Avant-Garde, here's a good introduction. Maybe not Anti-Road Rage, but worth investigating. After a hundred years, most people still don't get John Cage.
Enjoy.