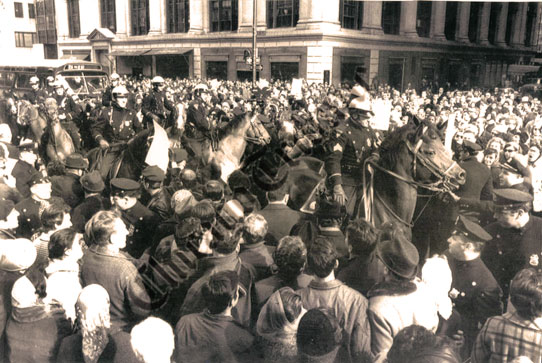 The New York City Teachers' Strike of 1968 – Past Daily Reference Room
Click on the link here for Audio Player: WOR – Martha Deane Pgm. N.Y. Teachers Strike – 1968
A reminder of Teachers' strikes past – The New York City Teachers' Strike of 1968 was a months-long, arduous and deeply dividing strike that dragged on for a total of 36 days between May and November of 1968.
At the crux was a confrontation between the community-controlled School board of the Black-majority Ocean Hill-Brownsville suburb of Brooklyn and the New York City Federation of Teachers over the abrupt dismissal of ten teachers and administrators, who were mostly White and Jewish. The dismissal was brought on as the result of the newly created school districts desire to hire more Black teachers and administrators for the primarily Black school district.
What it wound up doing was pitting the community against the Teachers' Union, who saw it as a conflict between local rights to self-determination and teachers` universal rights as workers. The resulting strike spread throughout the entire city of New York and created a firestorm of controversy and a deep rift in relations between Blacks and Jews that would go on for years after.
Here is an interview in the midst of the crisis with New York City Schools Superintendent Dr. Bernard Donovan on the Martha Deane Program from October 1, 1968.
Related articles