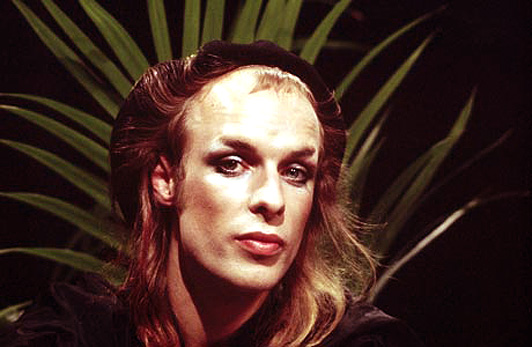 Brian Eno (Eno & The Winkies) In Session – 1974 – Nights At The Roundtable
Click on the link here for Audio Player: Eno & The Winkies – In Session – March 1974
Probably one of the most interesting groups to emerge from the early 1970's was Roxy Music. More than just the band itself were the members who contributed, not only to the band's worldwide success, but also made substantial contributions as soloists.
Brian Eno has become a household name over the past 4 decades and has become a pioneer, not only in the area of experimental/electronic music, but also as a Producer.
Early on, as a sort of offshoot to his work with Roxy Music and initially as a side-project, Eno formed a group first known as Eno & The Winkies. With a memorable debut album (billed as just Eno), Here Come The Warm Jets, Eno quickly established himself as one of the real guiding lights in the area of Progressive/Experimental music.
Tonight's session comes from that early period – a session done for the John Peel Program at BBC Radio 1 in March of 1974. Billed as Eno & The Winkies, here are 3 tracks from that session:
1. Baby's On Fire
2. Totalled
3. The Paw Paw Negro Blow Torch
You may have missed this early phase of Eno's evolution and may wonder if this is the same guy who gave us Music For Airports as well as producing U2's Joshua Tree. Yes, it is. The very same one.
Cool. No?
Related articles