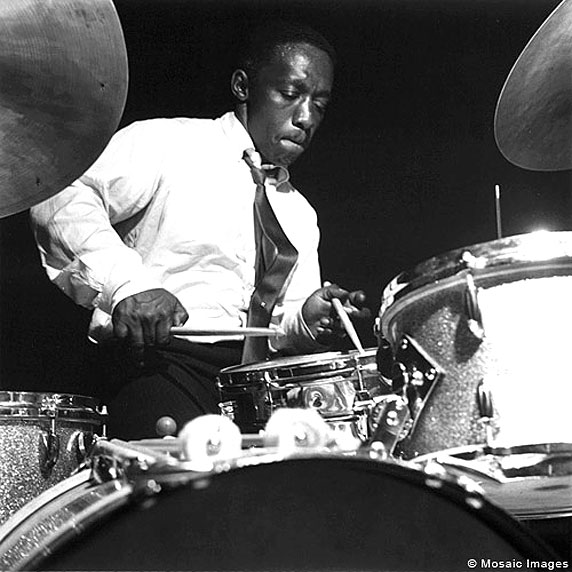 Art Blakey & The Jazz Messengers – Live In London – 1965 – Past Daily Downbeat
Click on the link here for Audio Player: ArtBlakeyAndTheJazzMessengers1965-03-07CineTeleSoundStudioLondonUK
It's not even going out on a limb to say Art Blakey did more for taking percussion out of the "keeping time" box and putting in a place of creative expression than most other drummers of the 20th Century did. His influence was far reaching; touching not only Jazz but the burgeoning field of Rock and Progressive Rock in the mid-1960's.
So this weekend I'm running a concert Blakey and The Jazz Messengers did in London, and recorded on March 7, 1965.
Here's what's on the player:
Art Blakey & The Jazz Messengers
Cine-Tele Sound Studio
London, England
March 7, 1965

John Gilmore ts
Lee Morgan tp
John Hicks p
Victor Sproles b
Art Blakey d

1 On the Ginza
2 Lament for Stacy
3The Egyptians
4 I Can't Get Started
5 Buhaina Chant
Total time: 0:34:05.00
Enjoy it with the rest of the Weekend.