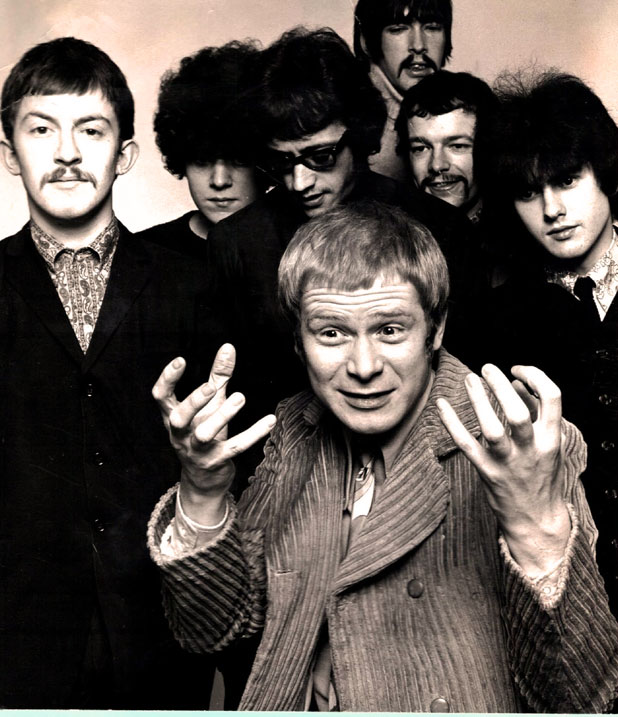 Long John Baldry -Live At The Paramount, Seattle – 1972 – Nights At The Roundtable: Mini-Concert Edition.
Click on the link here for Audio Player: Long John Baldry 1972-03-10
One of the great, unsung British blues singers of the 1960's – the late, and much lamented Long John Baldry tonight. In a mini-concert from The Paramount Theater in Seattle, recorded by KISW-FM on March 10, 1972.
Baldry was hugely influential in the Blues explosion in Britain in the early 1960's. At a towering 6'7″, he was easily the most recognizable on stage, even if it wasn't for his searing vocal style. Baldry was involved in a number of bands who went on to achieve great heights on their own in later years. Steampacket, featured a  young Rod Stewart along with Brian Auger and Julie Driscoll. Another band was the legendary Bluesology (see photo) which included, among many others Elton Dean, who later went on to achieve great success with The Soft Machine. But probably the most famous alumnus of the Baldry groups included a young singer-pianist named Reg Dwight who, as legend has it, took Elton Dean's first name and Long John Baldry's first name and became Elton John. The rest, as they say  . . .
This concert features Baldry during a comeback he made in the early 1970's. Having signed with Warner Bros. Records, he had achieved a moderate success via the FM Underground circuit, and it was probably because of that, Long John Baldry established a name for himself in the U.S., which wasn't before then.
Featuring a lineup that includes Bob Westin on guitar, Dennis Ball on bass, Keith Boyce on drums, Ian Armitt on piano and two unidentified backup singers, Long John Baldry gives one of his trademark all-or-nothing performances.
Here's what's on the player:
1. It Ain't Easy

2. Flying

3. Going Down Slow

4. I Don't Mind (Mahalia Jackson tribute, who had passed away two weeks earlier)

5. Don't Try and Lay No Boogie Woogie (On The King Of Rock and Roll)
The sound is a bit strange in places, coming from an FM aircheck – but the performance is so good, whatever technical limitations are easily overlooked. It's a memorable half-hour by any account.
Play this one loud.