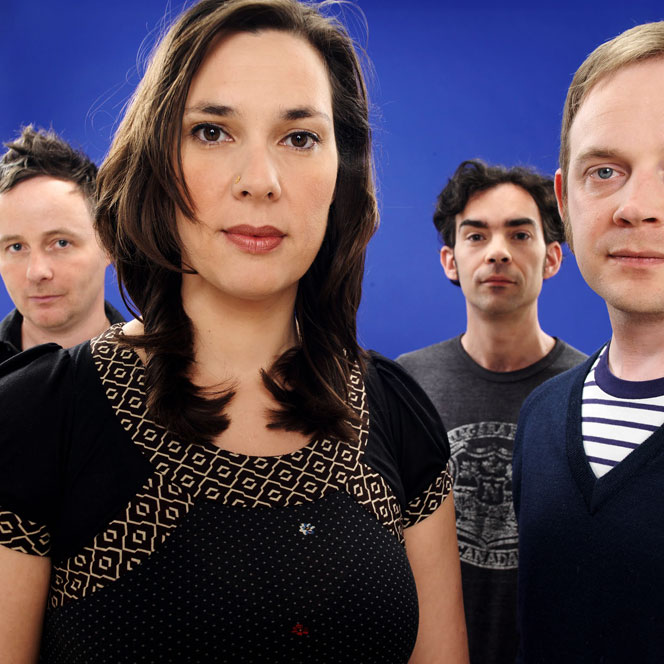 Stereolab In Session – 1996 – Past Daily Soundbooth
Tonight one of those bands that had fiercely loyal fans or loudly damning detractors. Not soliciting that kind of reaction over here, they were moderately successful and enjoyed a good relationship with their American label Elektra until their extended hiatus, which began in 2006.
One of the cornerstone electronica/experimental bands, Stereolab had been around since 1990, and had earned the description as "one of the most fiercely independent  and original groups of the 90s". They became, over time, one of the most prominent of the underground bands to achieve commercial success for an extended period.
Although Stereolab found success in the underground music scene and were influential enough to spark a renewed interest in older analogue instruments, they have never had a significant commercial impact. The band were released from their recording contract with Elektra Records due to poor record sales, and their self-owned label Duophonic signed a distribution deal with Too Pure and later Warp Records. After a ten-year hiatus, the band reunited for live performances in 2019.
Their records have been heavily influenced by the "motorik" technique of 1970s krautrock groups such as Neu! and Faust. Tim Gane has supported the comparison: "Neu! did minimalism and drones, but in a very pop way." Dave Heaton of PopMatters said that their music also had "echoes of bubblegum, of exotica, of Beach Boys and bossa nova", with their earlier work "bearing strong Velvet Underground overtones". Funk, jazz, and Brazilian music were additional inspirations for the band. Stephan Davet of French newspaper Le Monde said that Emperor Tomato Ketchup (1996) had musical influences such as Burt Bacharach, and Françoise Hardy. The sounds influenced by minimalist composers Philip Glass and Steve Reich can be found on the 1999 album Cobra and Phases Group Play Voltage in the Milky Night. Stereolab's style also incorporates easy-listening music of the 1950s and '60s. Barney Hoskyns wrote in a review for Dots and Loops (1997) that the group moved "away from the one-chord Velvets drone-mesh of its early days" toward easy-listening and Europop. Joshua Klein in Washington Post said that, "Years before everyone else caught on, Stereolab [were] referencing the 1970s German bands Can and Neu!, the Mexican lounge music master Esquivel and the decidedly unhip Burt Bacharach." Regarding their later work such as Instant 0 in the Universe (2003) and Margerine Eclipse (2004), critics have compared the releases to the band's earlier guitar-driven style.
Here they are in session with three tracks, recorded for John Peel and his BBC Radio 1 program on January 6, 1996.