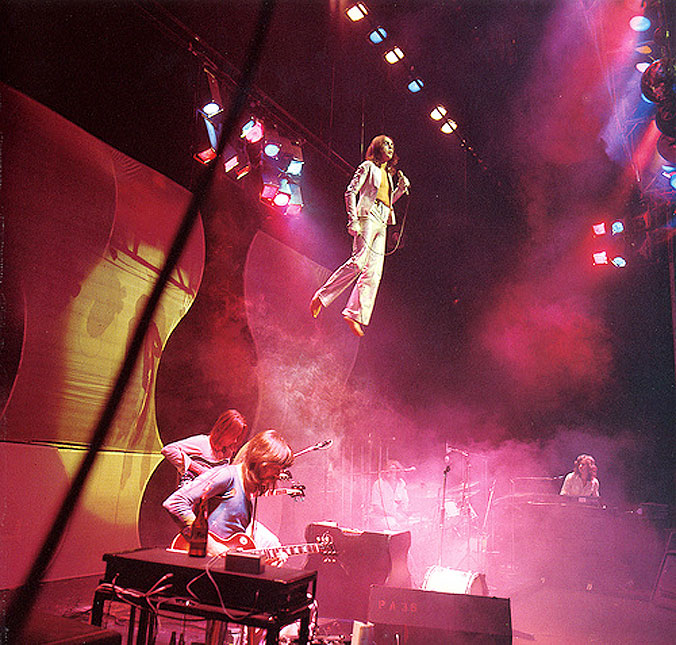 Genesis – In Concert At Wembley – 1975 – Past Daily Backstage Weekend
Click on the link here for Audio Player: [audio https://oildale.s3.amazonaws.com/wp-content/uploads/2013/06/22153254/1975-07-12-bbc-in-concert-genesis.mp3]
As one of those people who hates saying "oh, you should have been there", I have to say, if you have just discovered Genesis, and more importantly, Genesis during the Peter Gabriel period, you truly missed some of the best live performances to be given by a band in the mid-1970s.
One of the pivotal groups in the Progressive genre of the early 1970s, Genesis were hugely influential on a number of levels. The technical proficiency of the individual players was counter-balanced by the outrageous theatrics of singer Peter Gabriel and took what was ostensively a cerebral exercise and compounded it with a dramatically visual one – it was a totally engrossing experience.
There has been a lot of divided opinion over the years, since Gabriel's departure for a solo career, whether Genesis lost much of their appeal when drummer Phil Collins took over vocal chores and the band took a decided turn for the commercial. I admit to having lost interest. But the bottom line is; if the later incarnation of Genesis got you to discovering them, then there's a good chance you would dig through their earlier material and find the gems.
In any event, here is a concert during the fabled Peter Gabriel period of Genesis, recorded live at Wembley early in 1975 and broadcast by BBC Radio 1's In Concert Series on July 12, 1975.
For those of you just making the discovery, or are interested in a really in-depth look at Genesis, my old pal Armando Gallo, who has chronicled and photographed the band practically from the beginning, has put together a Genesis APP based on his benchmark book I Know What I Like. Check it out and take a plunge into the amazing world of Genesis.
Something to look at while you're listening to this one – at full volume.
Related articles