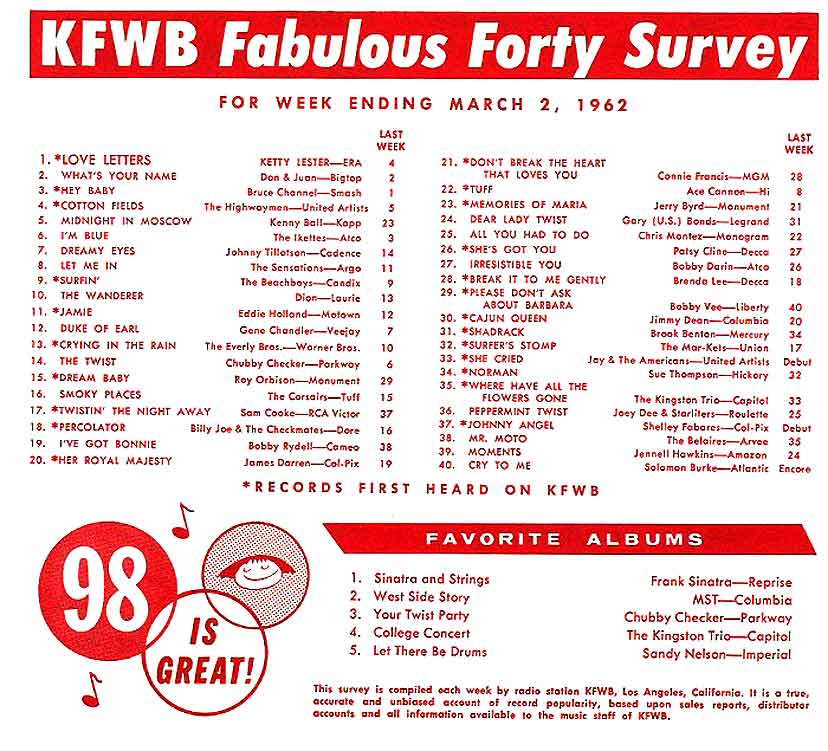 KFWB On KMET – 1972 – Past Daily Pop Chronicles
Click on the link here for Audio Player – KFWB on KMET – Gary Owens Show – November 11, 1972 – Gordon Skene Sound Collection
Unless you grew up in L.A. in the 1960s, or have an interest in Top-40 radio in the Los Angeles area in the 1960s, this post may not be very interesting to you.
However, if you did grow up in L.A. in the 60s, you would vividly remember what a powerhouse KFWB was, and how it was almost required listening if you had any interest in Pop music at all. KFWB, from the 1950s all the way to its demise and format change in 1968, was the be-all/end-all in knowing things musical and popular culture. In its heyday, stations like KFWB, KRLA and later, KHJ would rule the airwaves and became the cornerstone in Rock n' Roll.
But radio changed dramatically once FM became the popular medium in 1967. And stations like KFWB were no longer deemed vital, when stations like KMET were around.
And so it was somewhat ironic that, in 1972 when KMET was at the height of its popularity, it should turn over a whole day of its programming to re-creating a day in the life of KFWB, circa 1962. For 24 hours, KMET turned back the clock and became KFWB, with all the original jocks, all the original jingles and all the original records played during that time. The only thing then-current were the commercials, including one for Deep Throat and another with Woody Allen promoting a concert he was doing with Jim Croce. A day loaded with ironies. . . . and Gary Owens reading a waterbed commercial.
Ironically, KMET has long been gone from the airwaves. Replaced by The Wave. The station (one of them) largely responsible for rendering AM top-40 radio obsolete itself became obsolete a few years after this broadcast. Pop Culture is just like that, it seems.
Since I can't play the full 24 hours (although I could, but it would be overwhelming to me and to you), I grabbed an hour hosted by the legendary Gary Owens – one of the fixtures in radio and voice overs for decades – 6:30 am to 7:30 am as it was originally broadcast on November 11, 1972 – recreating a November 11th in 1962.
If you're hearing this or the first time it will sound completely strange to you. Radio bears no resemblance to that now. But bear in mind, this is where a lot of us formed our musical opinions on things – where we came to hear what was new and interesting. As a kid, it was an education.
Enjoy it in the spirit it was presented.