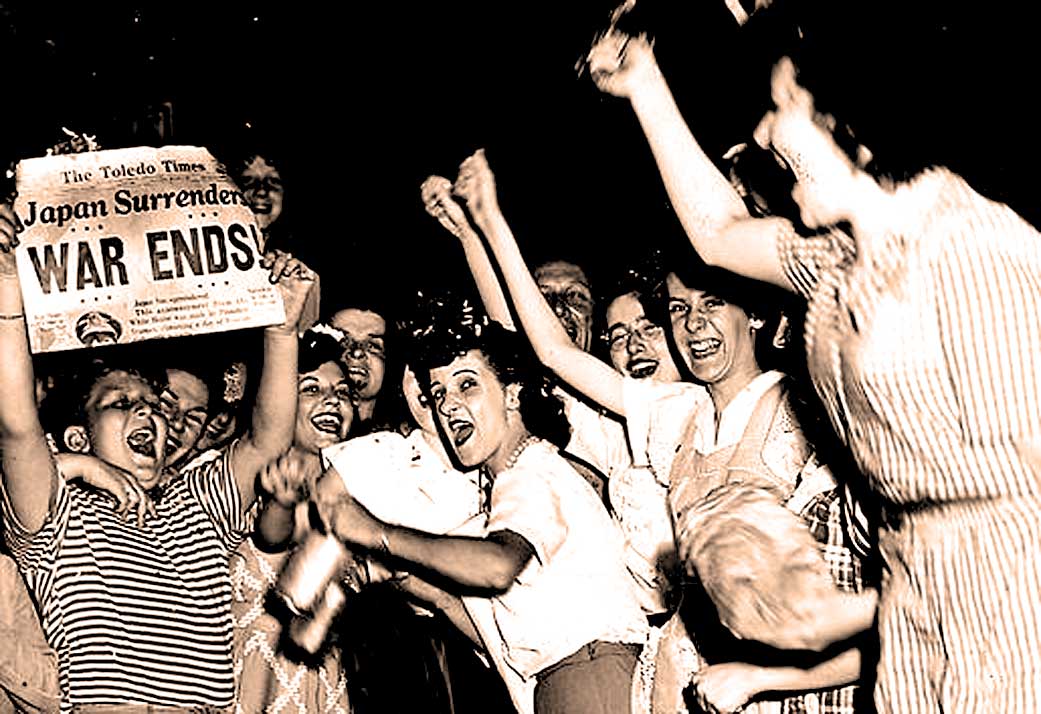 'War Is Over – War Is Over – Peace Has Come – Peace Has Come!' – August 14, 1945
– August 14, 1945 – Mutual – 12 Noon-2:00pm – Gordon Skene Sound Collection –
– NBC Radio – News – August 14, 1945 – Gordon Skene Sound Collection –
News for this August 14th, 70 years ago, was like the end of terminal waiting. The news the war in the Pacific, and subsequently the official end to World War 2 finally came. After days of diplomatic wrangling, messages, mixed signals, delays, frustration, raised and dashed hopes, the news the Japanese accepted our Potsdam ultimatum and agreed to unconditional surrender finally broke.
Even as the day began, there were doubts we had come any closer on this day than on the others, when rumors first began and excitement over the end of World War 2 began to gather momentum.
Messages and lengthy cables crossed diplomatic channels and intermediaries – translations and deciphering meanings; hidden or explicit and decoding were slow and painstaking and only added to the frustration – as now the rest of the world was waiting patiently for word that it was all over.
And then, late in the afternoon, word from the White House that the Japanese did accept the surrender terms, and that it was all finally over, and that World War 2 had ended.
What followed next was a giddy explosion – celebrating in the streets. Crowds flowing into downtowns all over the country and one huge party was underway – and the party would continue all night and into the next day, as those few who hadn't heard, finally got the news.
Here are two broadcasts from that day – the first one is a two hour snapshot of the day, from 12:15pm – 2:15 pm on August 14th via Mutual Broadcasting System – the news wasn't official yet.
And the second broadcast is an hour from NBC Radio when the surrender became official, beginning with H.V. Kaltenborn's breathless declaration that "War Is Over – War Is Over – Peace Has Come – Peace Has Come" – and the celebration that gets underway.
Big news, this day 70 years ago – 3 hours worth of a day that ended a lot differently than it started. And you can hear exactly how it sounded, and maybe feel just a little of the excitement.