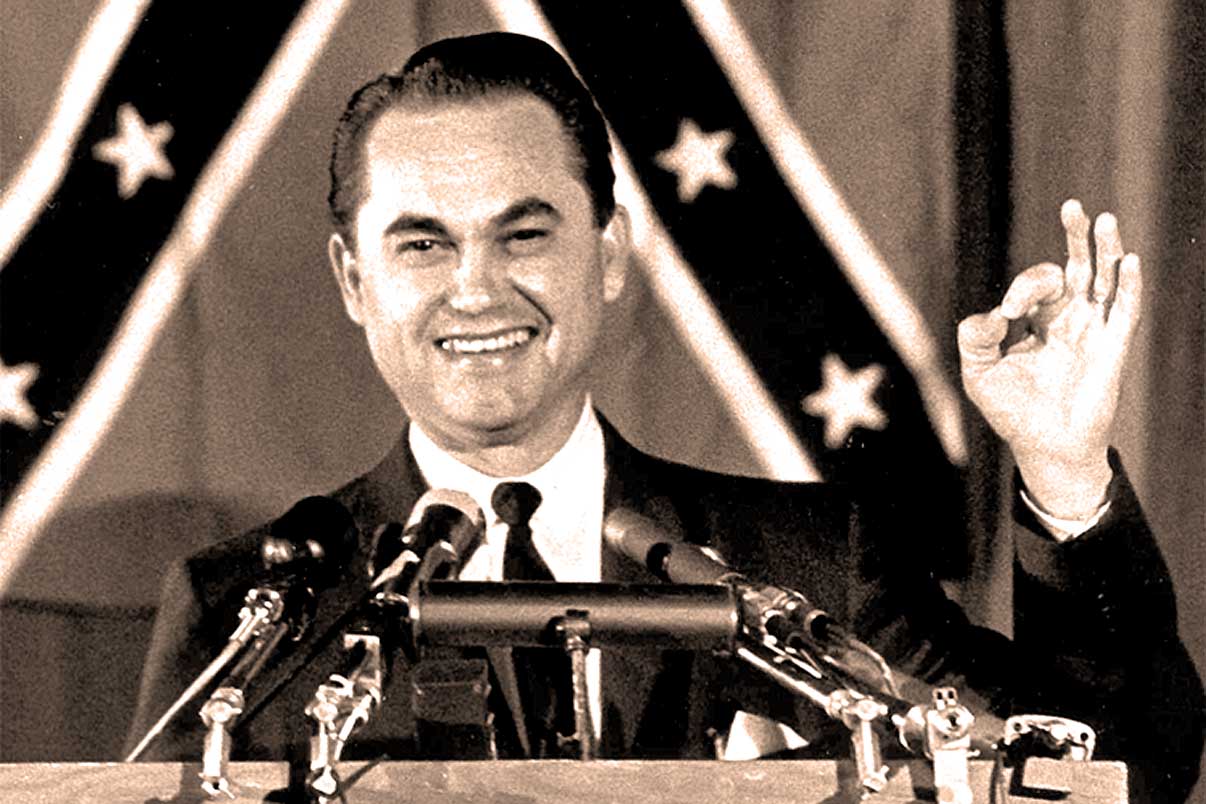 March 28, 1976 – A Word From George Wallace
March 28, 1976 – George Wallace On Meet The Press – Gordon Skene Sound Collection –
March 28, 1976 – It was a Sunday and it was an election year. And on this day in 1976 it was an interview on Meet The Press with Democratic Presidential Candidate George Wallace. Wallace, on his last go-around as Presidential candidate was up against a virtual unknown, Jimmy Carter, another Southern Governor who Wallace felt he could beat, or at least try and influence the Democratic Party platform come Convention time later on.
Wallace, who was the victim of an assassination attempt during the 1972 campaign, was now bound to a wheelchair. Much of the hellfire, brimstone and "segregation now and forever" were gone, but the staunch opponent of Civil Rights of the early 1960s was still very much on peoples minds. And even though he disavowed his previous stance on Integration during the course of this Meet The Press interview. the old stigma was hard to lose.
In this interview, Wallace is asked why he is running, even though he's won no primary elections, and has been running a distant second in some, Wallace still voices confidence he will win the nomination – and doesn't venture any alternative such as, what he would use his delegates as bargaining chips for. The questions are posed but not answered.
But anyone who has followed the political career of George Wallace would find this interview to be, if anything, subdued – although Wallace repeats the mantra that he would like to see the Democratic Party return to the "old days" – the gamut of interpretation on that one runs pretty wide.
This was one aspect of former Alabama Governor George Wallace, toward the end of his political career. It will be interesting to run comparisons between this version of George Wallace and some of the previous ones. Stay tuned.
As you know – we in the middle of our Past Daily Spring Fundraiser – and some of you have been having trouble making your pledges. In fact, a few donors have complained that Indiegogo won't accept PayPal for your payments – well, fear not. To the right of this screen is a small logo for Fractured Atlas, that's the Non-Profit organization we use, and who also give me the ability to let you take us off your Taxes. They are set up for PayPal as their primary source and will happily accept your PayPal payment and give you the same Tax Deduction for your contribution as Indiegogo. In short, we have all the bases covered. What we don't have covered is the ability to convince you to chip in what you can to help us keep Past Daily going and the Archive, where all these recordings come from, busy digitizing and preserving and making all the rarities available to you at the click of a mouse. So – if you don't want to do PayPal, please click on the link in the box below and make your pledge today – if you want to use PayPal, click the Fracture Atlas logo on your right. Same good cause – same great site. Same overwhelming gratitude.