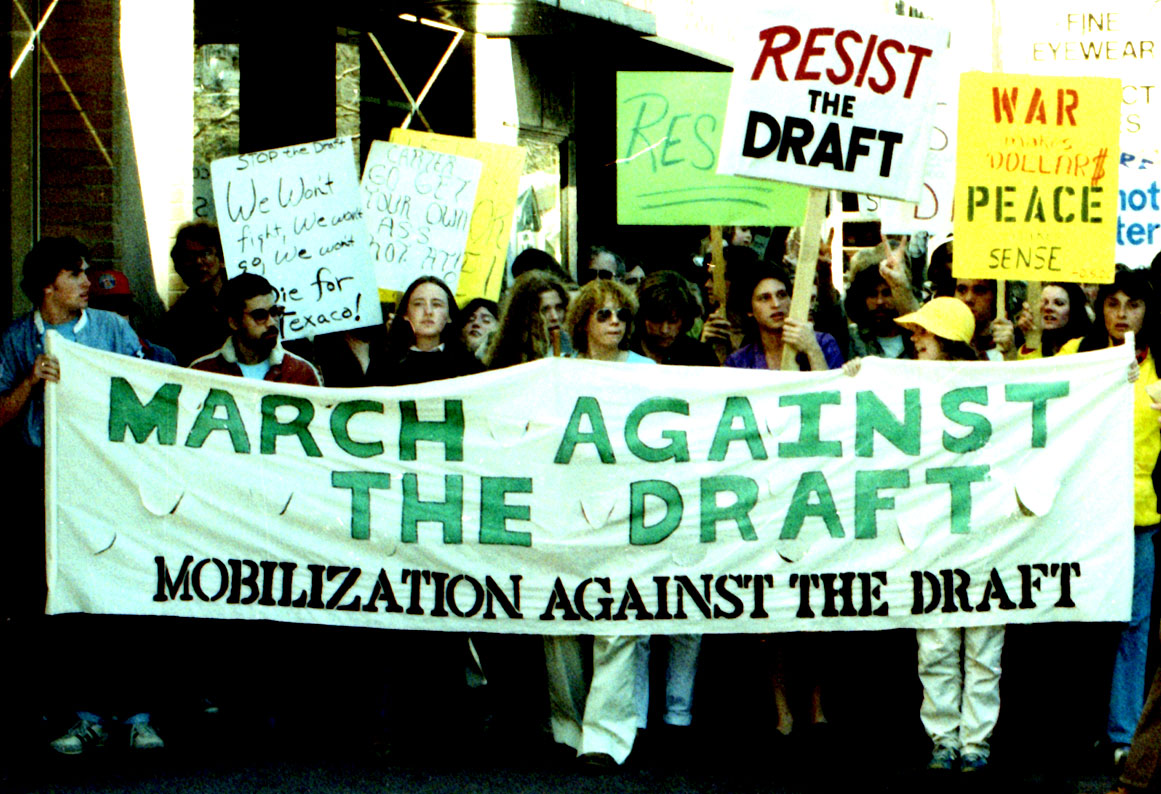 July 21, 1980 – Shades Of The 60s – Protesting The Draft
July 21, 1980 – CBS Radio – The World Tonight – Gordon Skene Sound Collection –
July 21, 1980 – but if you closed your eyes and took a deep breath, it could be July 21, 1968. Plans were afoot to reactivate the Draft, with Selective Service offices opening up and all eligible 18 and 19 year olds to register at their local post offices. In 1980, the Draft provisions only extended to men turning 18. Women were excluded, but many felt it was only a matter of time before Women would be included in the Draft.
Yes, it was the Draft again and it triggered protests all around the country. Even though the protests were small, in comparison to the 60s, it was still an issue. And despite the seemingly smooth first official day of the draft, it was difficult to tell how many 18 and 19 year olds were ignoring the request to register. There were threats and vows to employ the penalty measures for failure to register, but there were a flood of Court cases pending the constitutionality of the Draft law which only added to the air of confusion. The Draft question has become something of a red herring over the last few decades, with not much mention made of it in recent years, despite the fact that it's still in effect. With wars going on since 1980, the calling up of 18 year olds for the Draft hasn't happened in all that time. But in 1980 it was a very real possibility and the sea of shining young faces carrying placards denouncing War and the Draft brought an eerie sense of nostalgia to many of those living in terror of receiving that "Greetings" from Uncle Sam.
But there was other news going on that July 21st in 1980 – it was an election year and the campaign trail was blazing. The Carter Administration issued some economic news that was sure to provide lots of fodder for the Reagan and Anderson campaigns. The Office and Management admitted that the coming fiscal year would not be balanced, it would show a deficit and the deficit for the then-current fiscal year was much worse than originally forecast. The new numbers for Fiscal 1980 were up $24 billion from earlier estimates to a whopping $61 billion. And for Fiscal 1981 a deficit of $30 billion instead of the surplus as originally forecast. Other bad news was a prediction that unemployment would rise 8 1/2% and stay there throughout 1981. Inflation was at 12% and just under 10% in 1981. When asked if this was a death warrant for a campaigning President, chief Economic adviser Charles Schultze replied: "I do not believe, strongly, that taking the time to do something right is signing one's death warrant. What this suggests is that our problem is to design something that will stick with us".
And so it went – this, and a whole lot more for this July 21, 1980 as presented by CBS Radio's The World Tonight.