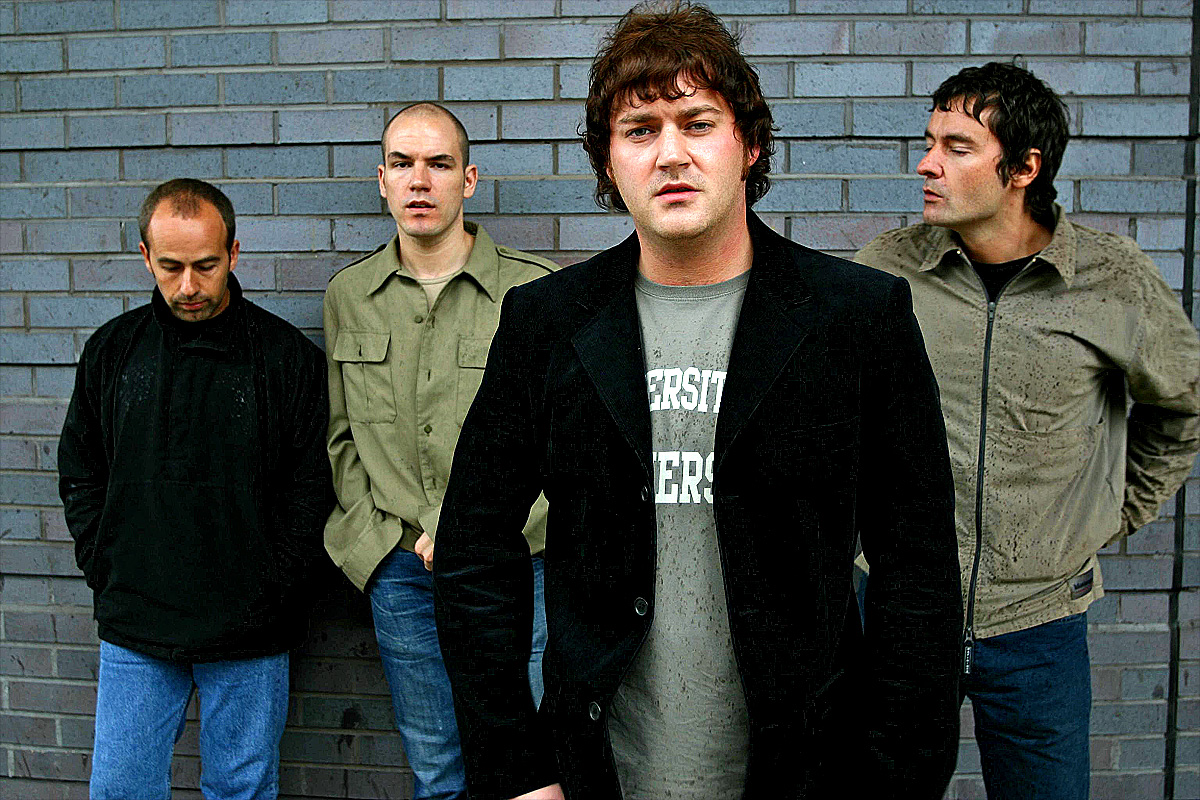 Puressence Live At Reading 1999 – Past Daily Soundbooth
Puressence – in concert at Reading 1999 – BBC Radio 1
Puressence tonight. From a BBC broadcast at the 1999 Reading Festival. The Indie band from Manchester, who were inspired to play music after going to a Stone Roses concert in 1991, formed Puressence in 1992. Although the story is considered a myth, it makes for good speculation, and further fuels the notion that Stone Roses were a very influential band for a lot of people. After issuing their first two singles by the Indie label 2 Damn Loud, they were eventually signed by Island in 1994 and a debut album released in April of 1996. It followed the release of their debut Island singles in early 1995.
Their excellent Facebook bio says it best (thanks to whoever wrote it!):
"Ignored by the majority but adored by a faithful, modest few, Failsworth, Manchester's Puressence were something of a contradiction in terms. Although they shared a laddish image and an implied arrogance with the mid-'90s incarnations of other north west England indie rock acts such as Oasis and the Charlatans, the high-register, ethereal vocals of frontman James Mudriczki pointed to something altogether more sophisticated. Claims that the band met on a bus on the way to the Stone Roses' legendary May 1990 gig at Spike Island, helped fuel and maintain their down-to-earth credentials, while in contrast their music represented a transcendence of the mundane — similarly executed during this period by acts such as Aberdeen, Scotland's Geneva, and later by Southampton's the Delays.

Upon their formation, guitarist Neil McDonald was the only member with any musical knowledge; bass player Kevin Matthews and drummer Anthony Szuminski soon caught up, providing the ideal, brooding backdrop for Mudriczki's moody and emotive falsetto. Between 1992 and 1993 early EPs released through Rough Trade and 2 Damned Loud made the legendary Island Records sit up and take notice, and by 1995, the label had issued the U2-inspired single "I Suppose." Their self-titled debut album appeared the following year drawing favorable comparisons to Radiohead's work on The Bends. That said, even a Puressence promotional campaign that included five singles — as well as a Manchester city center poster operation that bordered on causing criminal damage couldn't persuade the U.K. record-buying public to turn their attention away from (What's the Story) Morning Glory? by hometown giants Oasis.

With its lighter, pop focused sound 1998's Only Forever, yielded the band's first U.K. top 40 single the Who-inspired "This Feeling." Following that year's acquisition of Island by Universal, the label continued to show faith in Puressence, eventually releasing the ambitious Planet Helpless in October 2002, despite many other acts of their ilk being stripped from their roster in the intervening period. However, 2003 saw the band part company with the label and their manager as well as McDonald, who went on to form the Editors-influenced local act Juno Ashes. A fan of the band, Lowell Killen, stepped in to replace him on guitar, while the next few years brought sporadic live appearances.

Rumors that the band had split were laid to rest in September 2007 when they returned with the self-released Don't Forget to Remember. Recorded at Manchester's Revolution Studios, the album failed to take root on home soil, but helped to spread the word further afield. The accompanying tour took in their first U.S. dates and built on the earlier success of Planet Helpless in Greece. While their fourth album placed them back into the Top Ten of the Greek album charts, the uplifting single "Don't Know Any Better" reached number one, along with a prestigious support slot with Depeche Mode. The retrospective Sharpen Up the Knives arrived in October 2009, prior to the band's biggest ever U.K. headlining gig in front of 3,500 fans at the Manchester Apollo."
To get acquainted, or to be reminded, here is that gig at the 1999 Reading Festival. It's suggested you play this one loud.