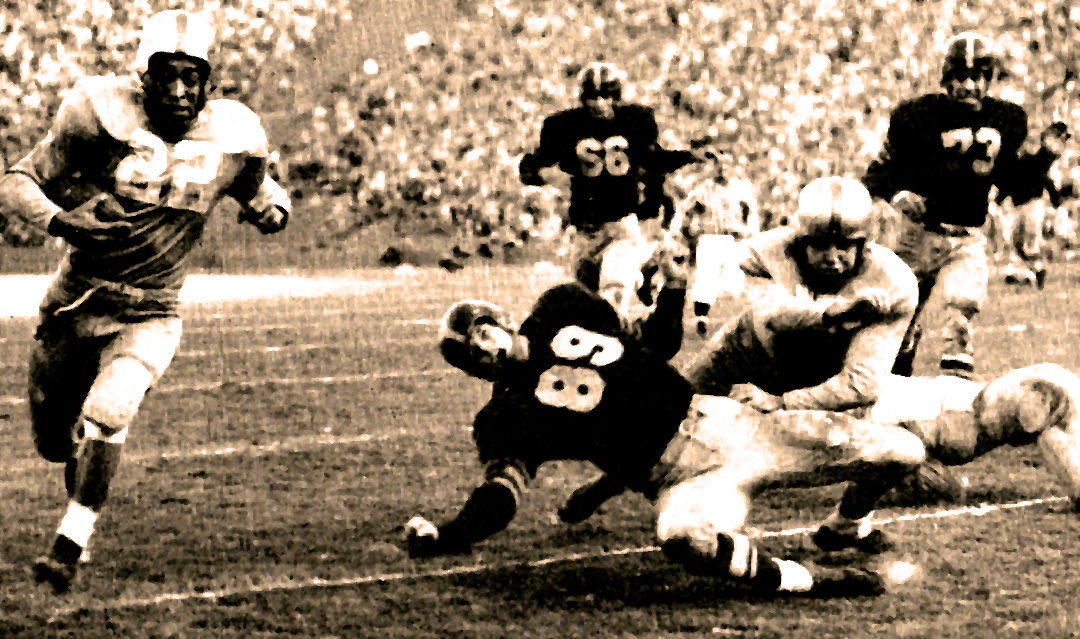 Football Season – November, 1952 – Past Daily Weekend Gallimaufry
KCBS-San Francisco – Lookin"em Over – Sports Program – November 1952, Gordon Skene Sound Collection –
Football season – in 1952 it wasn't too much different than Football seasons before or since. East-West rivalries. USC-UCLA rivalries. The state of Sports in 1952 – looking back at baseball. And drugs were making their presence known in sports by sentencing local Bay Area Boxer Jesse Torres to Prison for possession. He issues of stern denunciation about drugs and their use, and how it ruined his life. A situation and a sentiment that seems just as prevalent today as it did 65 years ago this month.
But since we're in the middle of November 1952, this episode of the daily KCBS-AM/FM San Francisco Sports program Lookin' 'em Over, concentrates on the state of Professional and College Football on the West Coast. The old cross-town rivalries; USC and UCLA and how this season was shaping up. What the 49ers were up to and what the season ahead was going to look like. News that 49ers Captain Norman Stanley was stricken with what was thought at first to be Polio. However, reports from the hospital where Stanley was admitted said they didn't think it was, but that the tests hadn't come back as of yet – so it was a question of time before a clearer picture would emerge.
Rocky Marciano arrived in San Francisco on this day, receiving a big welcome from fans. The Sports world in general was a different place than it is now. A feature on Baseball began with a report that a recent tryouts of rookies for the San Francisco Seals was wholly unproductive. And that out of the 100 who tried out, only about six were considered sufficiently talented enough to be considered for the team. According to the reporter, this was a much different situation than in previous years where rookies were felt to have more desire to achieve than their present day counterparts, who were only looking for the financial rewards. Citing a recent example of a player from Los Angeles, barely out of High School, who had just signed with the Boston Red Sox for a $60,000 bonus (a princely sum in 1952), even though he hadn't played one minute of professional ball. Many felt the frenzy over bonuses, which up until 1952 averaged $4,000 a year was now getting out of hand, and that this concentration on cash was in danger of ruining the spirit of the sport, particularly on the West Coast.
That's a sample of the Sports scene, as reported from the Bay Area in November of 1952, with Lookin' 'em Over from KCBS in San Francisco, hosted by Carrol Hansen.
9 HOURS LEFT TO GO. We're coming to the end of our Past Daily Fall Fundraiser and we're leaning on your support to help us get in sight of our goal. Just a few hours left to do it- and we need to hear from you before 9:00 (PST) tonight. Give what you can – it's Tax-Deductible and it every cent is gratefully appreciated. Do what you can – if you like us, please support us. That's all there is to it. Click on the link here: (Past Daily's Fall Fundraiser) and join us.