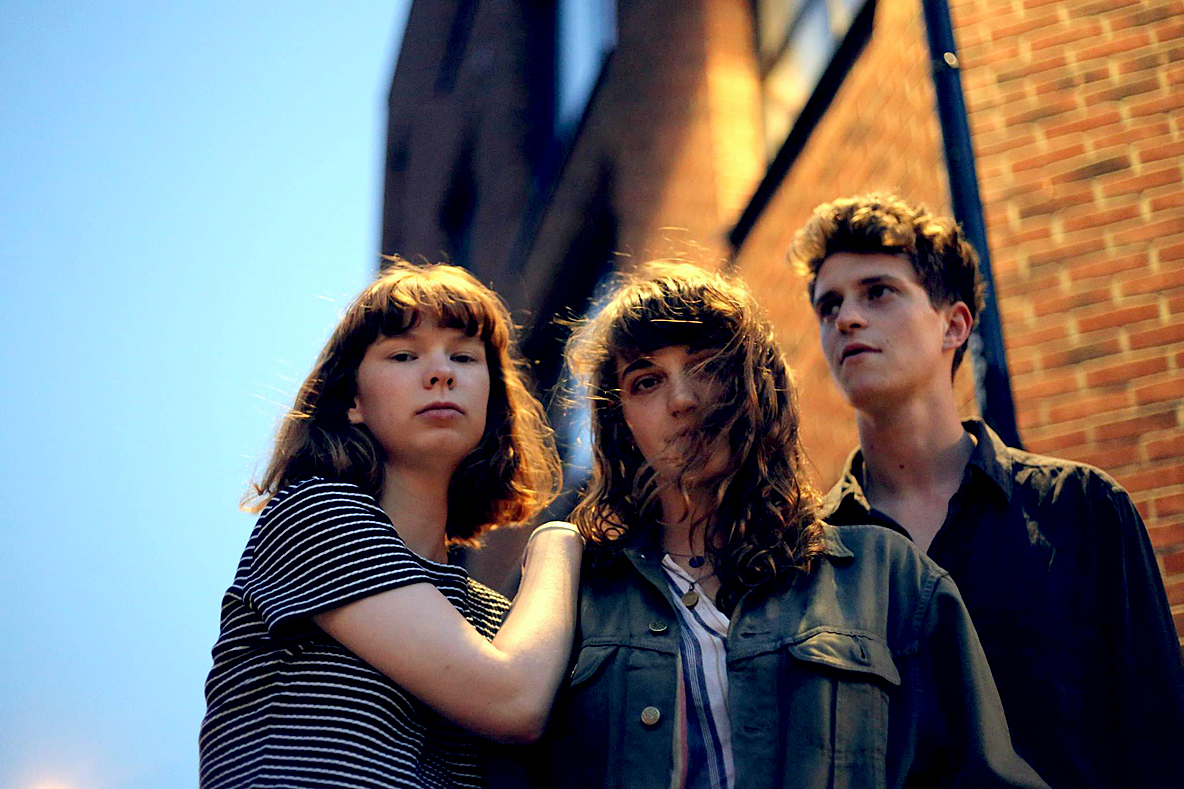 Our Girl – In Session – 2018 – Past Daily Soundbooth
Our Girl – in session for Lauren Laverne – October 3, 2018 – BBC 6 Music –
Our Girl, in session for Lauren Laverne at BBC 6 Music this past week. The trio from Brighton are standing at the jumping off point – with their debut album out and a tour already underway, there's a lot of breathless anticipation that this is a band to watch over the coming months.
And the press has been very good – very supportive and very enthusiastic, as evidenced by this review in Paste Magazine by Lizzie Manno this past August – here's a taste:
Brighton, U.K. trio Our Girl's debut album Stranger Today is the perfect gift for the listener that loves a good musical dichotomy. Fronted by The Big Moon's Soph Nathan, the band exudes the sweet and tender meets heavy and formidable sound of groups like the Pixies and My Bloody Valentine with their cathartic, thoughtful pop/rock and distorted shoegaze and grunge. As much as the term "grunge" has been thrown around to describe the band, it doesn't fully account for the beauty and richness of Nathan's songs and guitar playing. It's actually quite easy to become numb to her guitar skills because the shredding never lets up, but it's a different kind of shred—not the overblown, self-indulgent kind but the kind of melodic, earworm riffs and engrossing guitar tones and effects that justify both fixation and awe.

The album opens with a track named after the band, which is a ballsy move, but they proved to be more than up to the challenge as it's an apt microcosm of their sound. The guitars build a magnificent wall of sound around Nathan's gentle, comforting vocals, but you'd be naive to assume that her voice was one-dimensional as tracks like "Josephine" showcase her versatility and fire power. Their self-titled track, like many others, discusses the emotional intricacies of relationships, the closeness in feeling between romantic love and friendships and the devastating effect that isolation can have when you have a strong support system.
It's clear that Nathan can't fully function knowing there's a conflict or even a mere strange energy between her and a loved one. Though she often overthinks and overanalyzes ("I get scared that other people haven't been in my head"), it's because she cares and her interconnectedness with others will bring out emotions in anyone who listens, particularly on songs like "Being Around" and "Josephine" ("My stomach's tied to my friends").

The frequent guitar solos and instrumental breaks serve as a release of pent-up anger and pure emotion before Nathan's vocals return as if she's now more grounded and in a better headspace than before. The instrumental outros on tracks like "Two Life," "In My Head" and "Boring" are compelling, each for different reasons. The punishing guitars of "Two Life" mirror the dark internal struggle of the narrator ("Normally it makes me feel good"), "In My Head" shows the band's ability to ramp up the emotional tension with tempo changes and "Boring" displays their knack for emotional storytelling without vocals.
Stranger Today delights in its complementary flood of emotion and sound. Nathan articulately pours her heart out and the band sonically returns the favor with their complex explosions of warped guitars and an unremitting rhythm section. While the band isn't immune to occasional aimlessness on tracks like "Sub Rosa" and "Heat," their debut album should be praised for what it is—a strong record with memorable melodies, lovely vocals, impactful lyrics and some of the best guitar playing you'll hear this year.
I'm not even in Our Girl and I love this review – but this is what they have been getting for some time now. So with that in mind, crank this one up and have a listen.