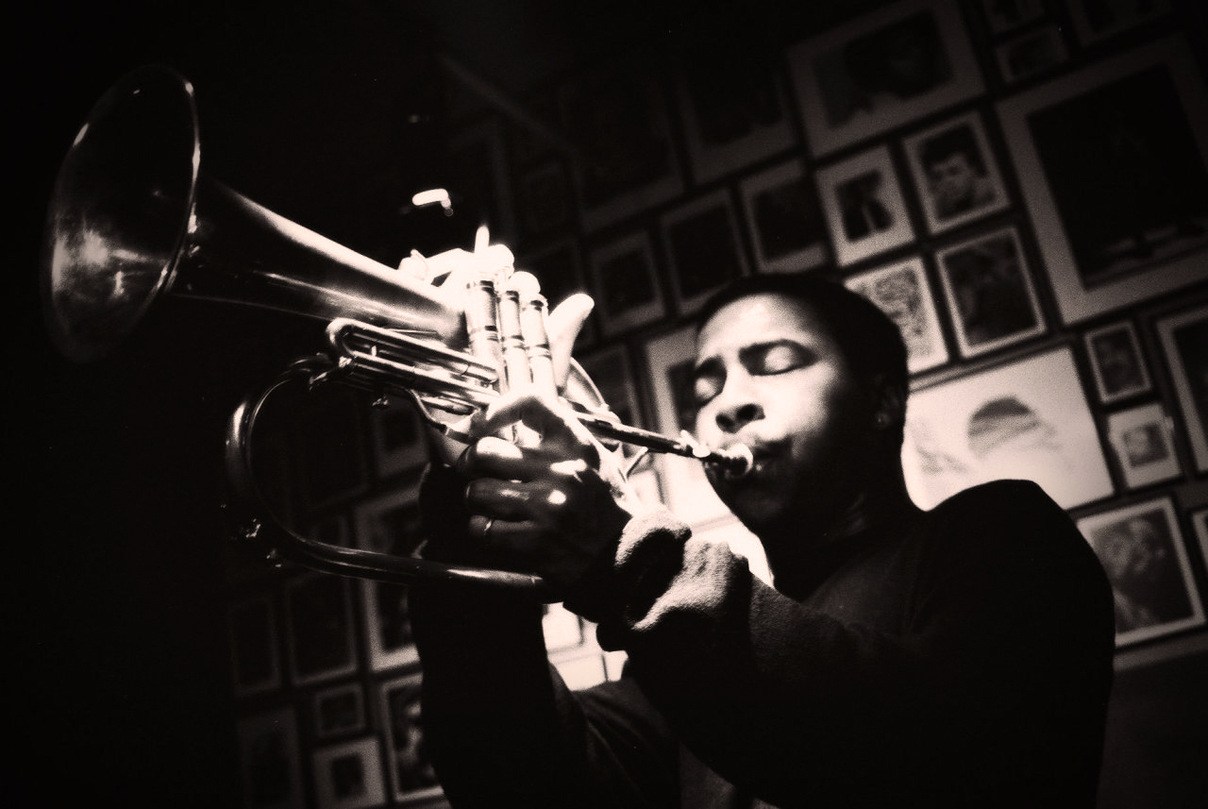 Roy Hargrove (And Strings) – Live At The Detroit Jazz Festival – 2016 – Past Daily Downbeat – Memorial Edition (RIP Roy Hargrove – 1969-2018)
Roy Hargrove Quintet w/The Detroit Festival Orchestra – Live at The Detroit Jazz Festival – September 3, 2016 – Gordon Skene Sound Collection –
More sad news this week. In a year that has already seen unfathomable loss of so many iconic artists, we can add the name Roy Hargrove to that painful ledger. Sadder, because his was one of those passings which went under the somber heading "gone way too soon".
One of the things almost synonymous with any Jazz Artist is the long-standing desire to play with a string section, or a whole orchestra – it's historic and has gone back almost to the beginnings of Jazz as a genre. Something about adding a string section to the mix creates a whole new dimension to the proceedings – and, in an abstract way, cements the notion that Jazz is Americas Classical Music. It's done a lot – I wish it was done a lot more – I happen to be one of those people who believe its a beautiful marriage.
But, to focus on Roy Hargrove, because this post is a memorial to him and his contribution to the music world.
When I first heard of Hargrove's passing, I went looking for more information, who else was writing about it. I found this pice from the NPR website that pretty much encapsulates Roy Hargrove as a man and musician. Here's taste of that obituary:
By Nate Chinen – NPR News
Roy Anthony Hargrove was born on Oct. 16, 1969, in Waco, Texas, to Roy Allan and Jacklyn Hargrove. He grew up in Dallas, where he attended Booker T. Washington High School for the Performing and Visual Arts, an arts magnet that also produced Erykah Badu and Norah Jones.

The first jazz musician who made a substantial impression on him was David "Fathead" Newman, a tenor saxophonist best known for his long tenure with Ray Charles; he was a Dallas-area native, and Hargrove heard him at a junior high assembly. Then in 1987, Wynton Marsalis heard a teenaged Hargrove in a clinic at Booker T. Washington and was so impressed that he invited the young trumpeter to sit in on his gig that week in Fort Worth.

Hargrove attended the Berklee College of Music on scholarship for 18 months, before transferring to the New School in New York. In jazz's close-knit musician community, the meteoric force of his arrival was comparable only to that of Marsalis' about a decade earlier.

Hargrove was a two-time Grammy winner, in two illustrative categories: best jazz instrumental album in 2003 for Directions in Music, featuring a post-bop supergroup with pianist Herbie Hancock and saxophonist Michael Brecker; and best Latin jazz performance in 1998 for Habana, a groundbreaking Afro-Cuban project recorded in Havana.

Early in his New York experience, in 1992, Hargrove and a business partner, Dale Fitzgerald, signed a lease on a loft in Lower Manhattan with the intention of finding a place for practicing and rehearsals. Three years later, Hargrove and Fitzgerald partnered with Lezlie Harrison to convert it into a nonprofit performance space, The Jazz Gallery. Though it moved to a new location in 2013, The Jazz Gallery continues to be an integral hub for the music. Hargrove continued to play there, just as he never stopped being a late-night fixture at Smalls.

He is survived by his wife, singer and producer Aida Brandes; a daughter from a previous relationship, Kamala Hargrove; his mother, Jacklyn Hargrove; and his younger brother, Brian Hargrove.

Along with his quintet — a sterling hard-bop unit that released an album called Earfood in 2008, and was recorded at The Village Vanguard in 2011 by WBGO and NPR Music — Hargrove intermittently led a big band. He often stood in for one of his many trumpet totems in the Dizzy Gillespie All-Star Big Band. And he continued to sit in and pop up as a special guest; he's prominently featured on an album released last year by singer and pianist Johnny O'Neal.

For a number of years, Hargrove struggled with substance abuse and its attendant problems. In 2014, he pleaded guilty to cocaine possession in Manhattan criminal court and was sentenced to two days of community service.

But those close to Hargrove say he had recently made great strides with any issues of dependency. "Whatever it was for a lot of years, it was radically, drastically curtailed over the last year or two," attests Clothier. "He was playing great; he really had himself back together. This last run we did in Europe, it was as good as I heard him play in the last 10 years."

Hargrove had been scheduled to perform on Saturday, Nov. 3, in a jazz vespers service at Bethany Baptist Church in Newark, N.J., as part of the TD James Moody Jazz Festival.
Here, as a memorial and reminder is a recent (2016) performance of his Quintet and String Orchestra from the 2016 Detroit Jazz Festival.
RIP: Roy Hargrove – the melody is interrupted, but the song continues.