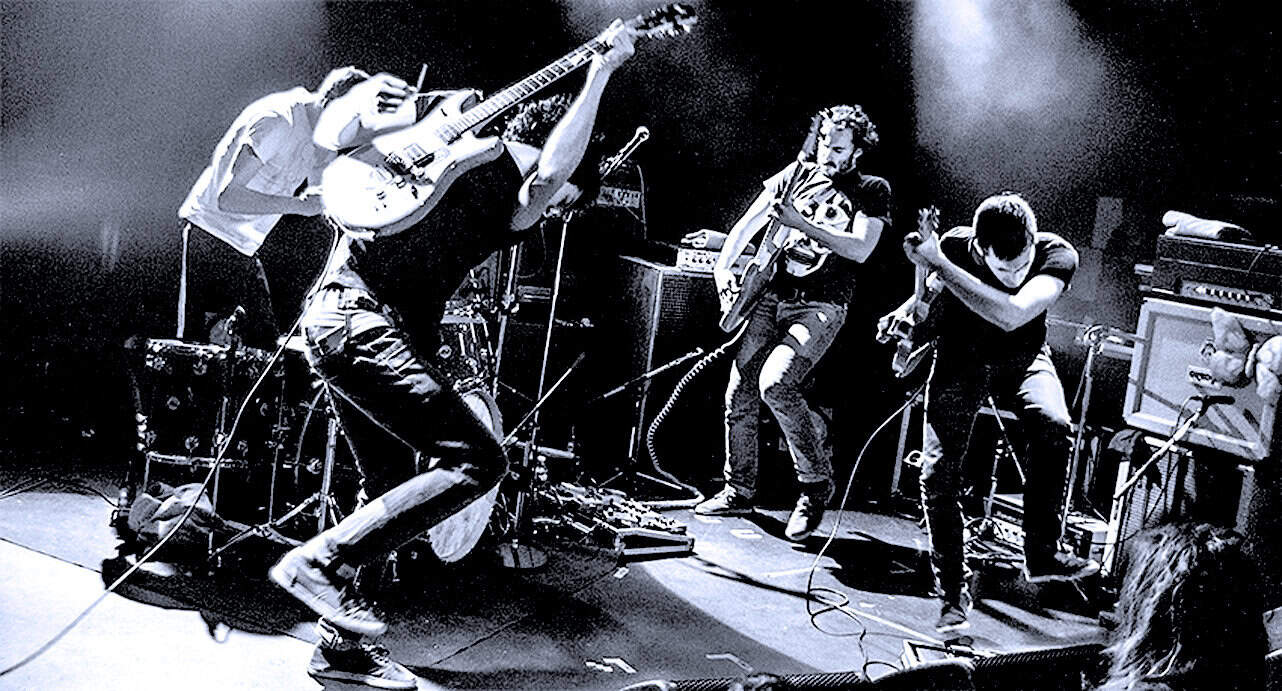 Totorro – Live At Oans Pub, Rennes – France -2015 – Past Daily Soundbooth: Rock Without Borders
Totorro – live at Oans Pub – Rennes, France – April 22, 2015 – club soundboard –
Sticking around the Continent this week and making more discoveries. Tonight it's Math-Rock/Indie/Noise contingent Totorro playing at a local pub in their hometown of Rennes, a few hours west of Paris on April 22, 2015.
First off – I really don't think this band should play at venues in anything less than a 2,000 seat capacity – it's big, spacious music that pushes the decibels past the point of pain, and as is evidenced by the overloading of the soundboard, with even cranking the limiters to maximum, can't prevent a thick coating of fuzz during the kinetic bits. Especially the drums. But the core sentiments are intact; this is a band pretty much driven by the math concept, and even though I have not been familiar with them until just recently, they are band I would like to visit more often – and with three albums to their credit, I believe that can happen.
Here is a small bio blurb via Prog Archives to fill in a few blanks:
TOTORRO is an experimental rock band from Rennes formed in 2004 by Xavier ROSE, Bertrand JAMES, Jonathan SICHE and Cristophe Le FLOHIC (also in post rock band FAGO SEPIA). The group started performing live in 2009 and since then remained very active in concert venues along with releasing studio material which is influenced by both post and math rock genres.
And this via Sophie's Floorboard:
"They play a very melodic blend of the aforementioned genres that often draws comparisons to bands like This Town Needs Guns or We Were Promised Jetpacks. This group of fantastic musicians has crafted some amazing music over the years that shows off both their technical and songwriting ability. Their most recent LP, Come To Mexico was released back in October and is an excellent addition to their discography."
Okay – so now you have some info – all you have to do is hit the play button and proceed gingerly into this pretty "out there" gig. And "out there" is good, you know.