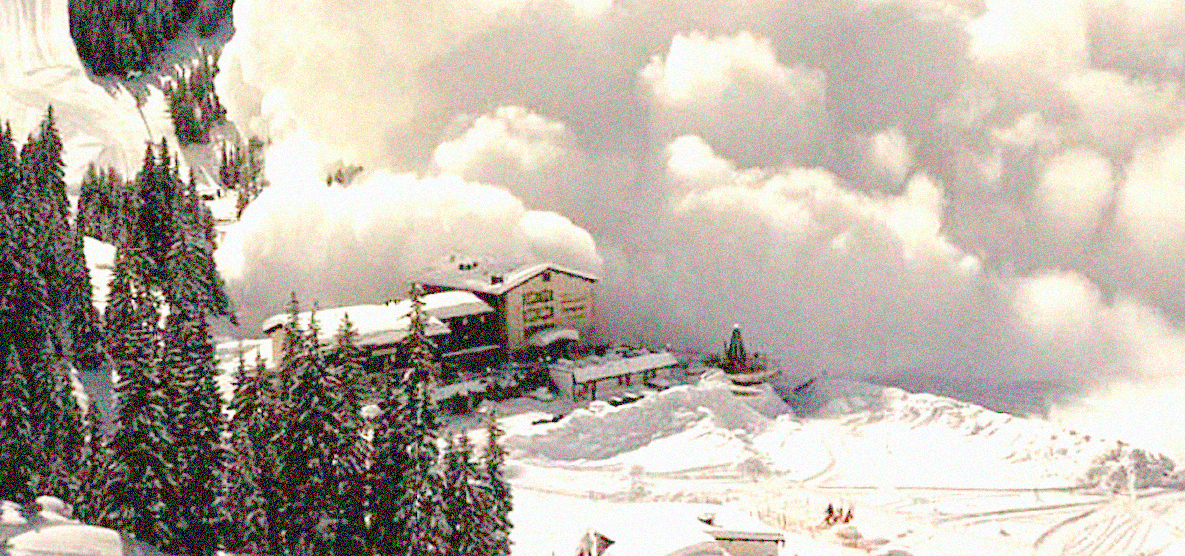 February 28, 1999 – Worries About the Y2K Glitch – Monica Lewinsky Has A Biography – When The Mountain Fell In Austria: An Avalanche In Austria
| | |
| --- | --- |
| | [laterpay_premium_download target_post_id="49534″ heading_text="Download For $1.99:" description_text="February 28, 1999 – CBS News On The Hour – Gordon Skene Sound Collection" content_type="link"] |
A little support goes a really long way, trust me: Become a Patron!
February 28, 1999 – News of a massive avalanche that buried the Austrian village of Galtür, killing some 38. The avalanche occurred on the 23rd, but on this day they were still recovering bodies as they were burying those that had already died. It took less than 60 seconds to hit Galtür. At 50 metres (160 ft) high and traveling at 290 kilometres per hour (180 mph), this powder avalanche hit with great force, overturning cars, ruining buildings and burying 57 people. By the time rescue crews managed to arrive, 31 people – locals and tourists – had died. This avalanche was considered the worst Alpine avalanche in 40 years. Three major weather systems originating from the Atlantic accounted for large snowfalls totaling around four meters in the area. Freeze-thaw conditions created a weak layer on top of an existing snow pack; further snow was then deposited on top. This, coupled with high wind speeds, created large snow drifts and caused roughly 170,000 tons of snow to be deposited.
In other news – Worries about the Y2K glitch were echoing around Capitol Hill. Senator Christopher Dodd said there were a number of areas that could be susceptible to the Y2K bug; some 90% of Doctor's offices were not Y2K compliant as well as potential failures in transportation systems all across the country. Overseas, the problem was huge and many were on edge that, no matter what could be done to prevent a massive glitch in our computer systems, there was still something that could go wrong.
And Monica Lewinsky, the main character in the Impeachment odyssey of Bill Clinton was getting her biography published in Europe during the coming week. Talk show host Piers Morgan commented that British perceptions of Lewinsky as a "bimbo" weren't founded and that Monica Lewinsky came across as very knowledgeable and that readers would be surprised to find how likeable Monica Lewinsky was.
And that's just a little of what happened, this February 28, 1999 as reported by CBS Radio's News On The Hour.