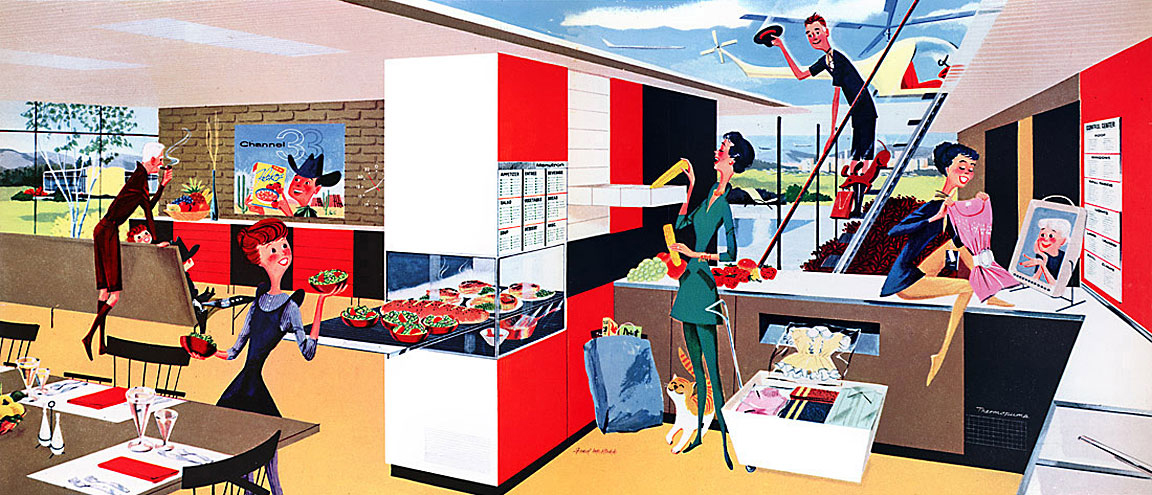 April 21, 1960 – Tomorrow: What Will It Be Like? – Past Daily Reference Room
| | |
| --- | --- |
| | [laterpay_premium_download target_post_id="50551″ heading_text="Download For $1.99:" description_text="April 21, 1960 – Image America – Tomorrow: What Will It Be Like? – NBC Radio- Gordon Skene Sound Collection" content_type="link"] |
Your support is vital to us: Become a Patron!
Tomorrow – The Future -The Jet-Age – Eternal optimism and the 30 hour work week (or less). America was in the midst of great prosperity and technological leaps. We were a nation on the cutting edge; we were innovators – we were dipping our toes in bold waters and dreaming of going to the Moon and satellites and color TV – machines that could think and a vast array of labor-saving devices all designed to take advantage of that much promised leisure time. The Middle class; the Taste makers who dictated the trends of American households and created new designs and prompted new ways of seeing the world. A world very much our oyster.
But there was another side – the side that lived in perpetual fear of annihilation from a nuclear holocaust. The side that stoked anxieties of Communist infiltration in our schools and libraries and movies. The side that was terrified of the coming of age of this Baby Boom generation. That social values were being questioned, that issues of racial discrimination and exclusion were on the slow boil and about to erupt at any time.
That we were "just around the corner" to a great upheaval in our society – one that would shake everything down to its foundations – and perhaps never be the same as it was ever again.
For all the fear and anxiety and the accompanying reliance on Alcohol and drugs as a means of problem solving, we were indeed entering new territory and were raked with melancholy and a desire for "simpler times" – simpler times of the turn of the 20th century, up to the First World War. But even that was admiring a portrait the never existed.
And just as much as there was this coming "New Frontier, the one President Kennedy alluded to during his inaugural address, there was also this desire for everything to be perfect; to work out beyond our wildest dreams – to wrap everything up in "the Disney ending".
And so many hours of many discussion programs and documentaries and debates on this coming future, this Tomorrow, were devoted of which, this episode from the series Image America was part of. This is the first half-hour of a 90 minute closing statement for the series; summing up where America was in 1960. Among those taking part in this discussion are author and historian Arthur Schlesinger jr., Harvard Professor Kenneth Galbraith, Senator Stuart Symington.
Here is that broadcast, as it was heard on April 21, 1960 – Image America: Tomorrow, What Will It Be Like", narrated by Bob Considine.