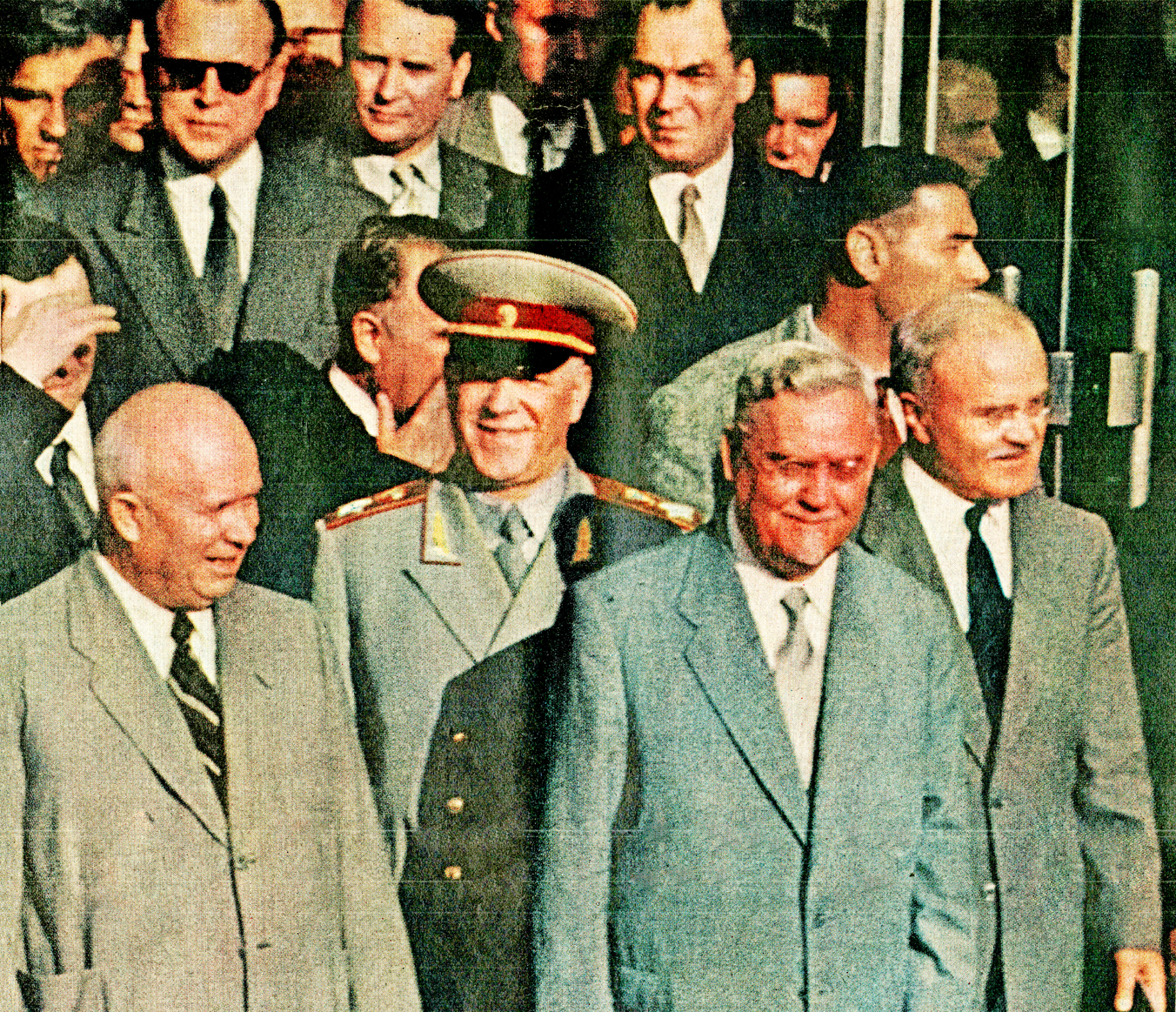 June 26, 1955 – Changes At The Kremlin – Nixon And The NAACP – Ike Goes Fishing.
| | |
| --- | --- |
| | [laterpay_premium_download target_post_id="51520″ heading_text="Download For $1.99:" description_text="June 26, 1955 – NBC Monitor News – Gordon Skene Sound Collection" content_type="link"] |
Could you? Become a Patron!
June 26, 1955 – A weekend, this June 26th in 1955. Not a busy news day, but one with a finger somewhere on the future. Beginning with reports of a rumored restructuring at The Kremlin. A proposal being put forth to rotate leadership, rather than put everything in the hands of one person. Russia was still recovering from the Stalin era and the Khruschev era was promising to be a little more open than it had been before. Under Stalin, the power existed with only one person and the country suffered for it. But after his death in 1953, leadership in the Kremlin was at odds over staying the course or attempting to try something new. And so over the weekend, news reports on the purported changes afoot in Moscow were filtering in and speculation was rife over how this was going to impact (if at all) the Cold War atmosphere that existed between Washington and Moscow. Only time would tell.
News on the Civil Rights front was gathering steam – vice-President Nixon addressed the 800 delegates at the 46th annual NAACP convention in Atlantic City. Nixon pointed to the numerous strides under the Eisenhower administration in the area of integration, citing the outright bad of segregation in the Military, the recently decided school desegregation issue (Brown v. Board of Education) and goals toward ending segregation in housing. Small steps, but steps nonetheless and the year was only half over.
And the latest from the White House reported President Eisenhower was enjoying some time off for camping and fishing in Maine on his last day before returning to Washington. The President caught two Salmon (throwing one back) and five trout which he was intending on preparing for his fellow campers for breakfast in the morning. A President who camps and fishes . . . .imagine that.
All that and a few minutes of Dave Garroway's Sunday program for NBC Radio's weekend program Monitor – all on June 26, 1955.