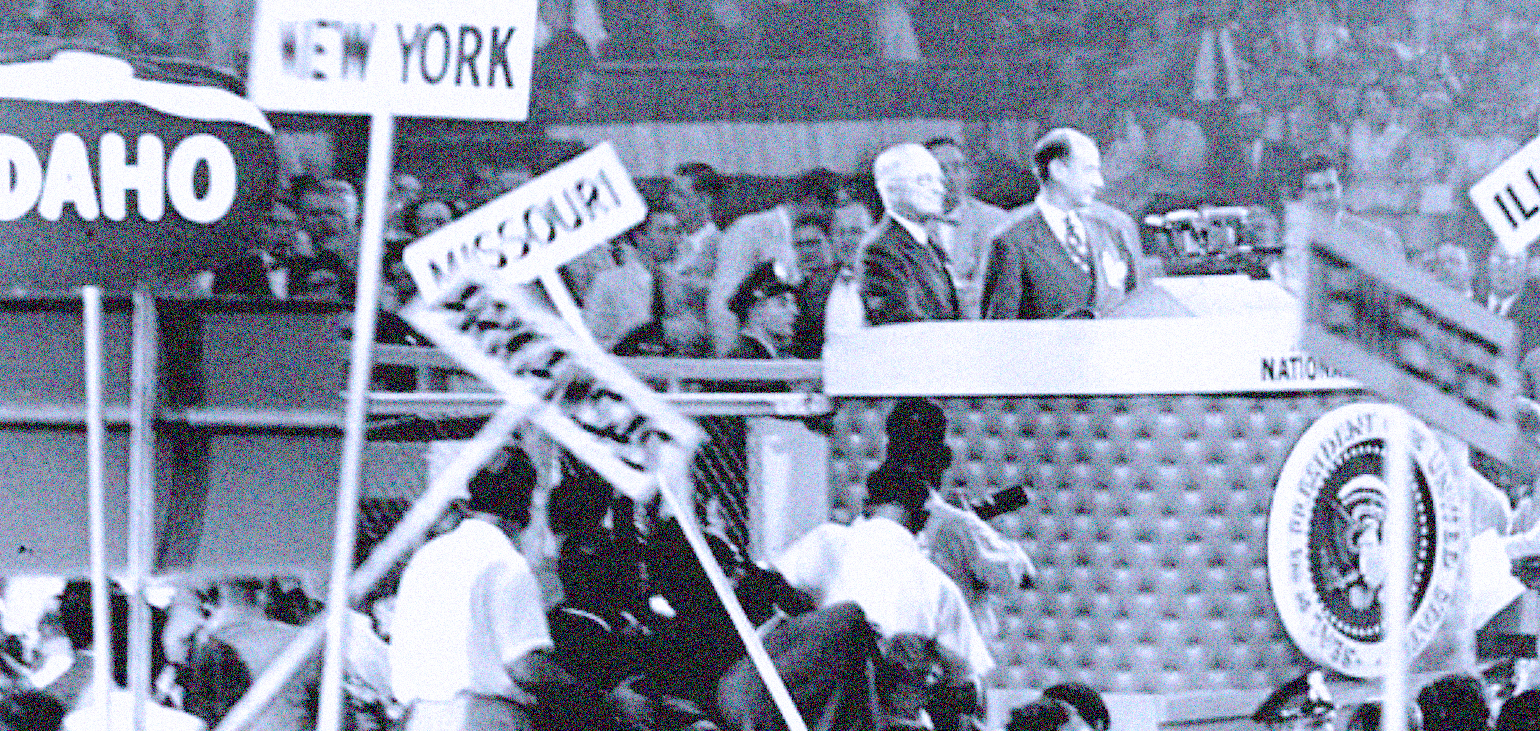 1952 Democratic Convention – July 23, 1952- The Drama – The Controversy – The Promises – The Snapshot View
| | |
| --- | --- |
| | [laterpay_premium_download target_post_id="52498″ heading_text="Download For $1.99:" description_text="July 23, 1952 – Democratic Convention Coverage – Day 3 – NBC Radio – Gordon Skene Sound Collection" content_type="link"] |
July 23, 1952 – Democratic Convention – 3+ hour snippet of day 3- NBC Radio – Gordon Skene Sound Collection –
July 23, 1952 – It happens every four years and some years are more dramatic and have more at stake than others. But the one thing they all had in common (until recently) was the exhaustive length of these rituals of Americana. More surprising (if you haven't been through these in the deep-dark past) is that the networks covered everything – every gavel drop, every floor fight, every demonstration, sometimes way into the early hours of the morning – it was all live and it was all part of the American ritual and the broadcasting part had been going on since the 1920s and went into high gear in 1932.
For an example is one of the less dramatic and corner-turning episodes during the 1952 Democratic convention, which was held in Chicago from July 21-26, 1952 where Illinois Governor Adlai Stevenson would emerge as the standard bearer.
The 1952 Democratic National Convention was held at the International Amphitheatre in Chicago, Illinois from July 21 to July 26, 1952, which was the same arena the Republicans had gathered in a few weeks earlier for their national convention from July 7 to July 11, 1952. Four major candidates sought the presidential nomination: U.S. Senator Estes Kefauver of Tennessee, Governor Adlai Stevenson II of Illinois, Senator Richard Russell of Georgia and Averell Harriman of New York.
Without an incumbent candidate in the White House, there was intense interest in who would win the nomination of each of the two major parties. There was also speculation as to whether a serious third-party candidacy, like Strom Thumond's Dixiecrat bid in 1948, would materialize, particularly for Douglas MacArthur, the general who led United Nations forces in Korea until he was relieved of his duties in 1951 for insubordination by Pres. Harry S. Truman.
Party primaries for convention delegates were held between March 11 and June 3 in the following order: New Hampshire, Minnesota, Nebraska, Wisconsin, Illinois, New Jersey, Pennsylvania, New York, Massachusetts, Maryland, Ohio, West Virginia, Oregon, Florida, California, and South Dakota. Primary elections were optional in three other states—Alabama, Arkansas, and Georgia—and were set by state committees.
To get some idea of what the typical day during the convention of 1952 was like, here is a 3+ hour snippet of the goings-on as presented by NBC Radio, live and as it happened.