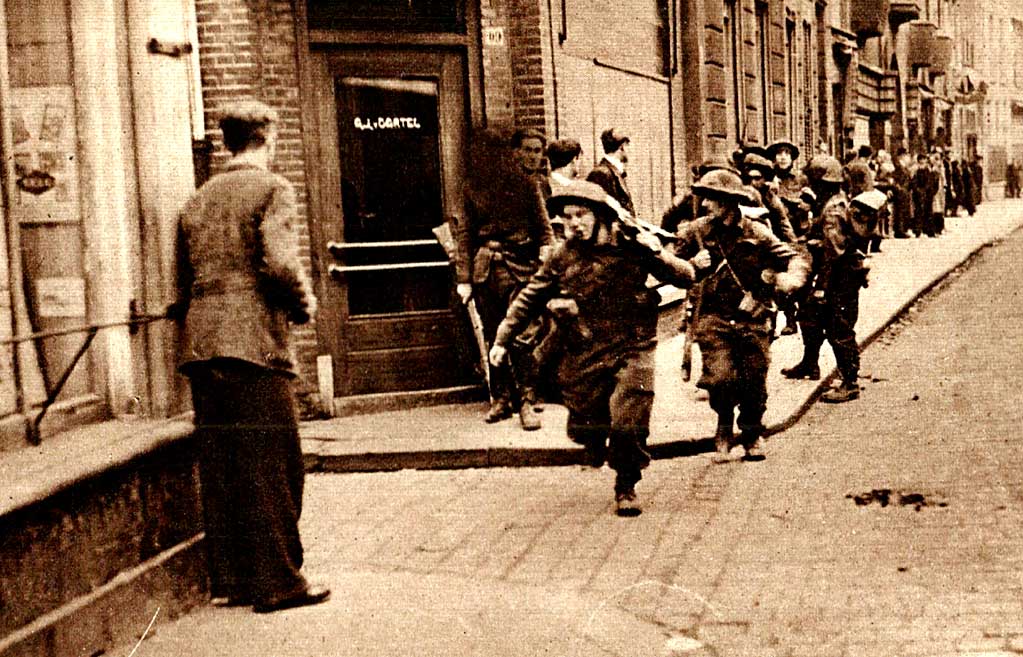 November 4, 1944 – A Week's Worth Of War – Shifting And Changing.
| | |
| --- | --- |
| | [laterpay_premium_download target_post_id="24272″ heading_text="Download For $1.99:" description_text="November 4, 1944 – War Telescope – NBC Radio – Gordon Skene Sound Collection" content_type="link"] |
As the war continued throughout 1944, news regarding the latest advances and battles going in Western Europe had many feeling the war might very well be over by the end of the year. However, the opinion on the ground and the soldiers involved in those battles told a more sobering story. Everything won was hard fought over, and the invasion of Fortress Europe was no easy feat.
Just a sample of the events going in during the few days of November – Liberation of Belgium is complete, as Canadians take Zeebrugge. US First Army begins drive on Schmidt, Germany through the Hürtgen Forest. All able-bodied German males ages 13-60 ordered to join Volkssturm militia under penalty of court-martial.
Marshal Tito becomes Prime Minister of Yugoslavia, serving in coalition government with government-in-exile prime minister Ivan Šubašić.
So news regarding the War was constantly changing. So in addition to daily reports and nightly recaps, news programs devoted to discussing the in-depth (where possible due to censorship) aspects of the war were popular and essential listening for those with relatives or loved ones fighting in those battles.
The weekly program War Telescope, devoted its 15 minutes to discussing the nuts-and-bolts aspects of fighting the war. In this episode for November 4, 1944, a discussion regarding the use of airborne troops, both paratroopers and troops in gliders, was brought up with a group of soldiers just back from the latest series of fighting in Holland. All those interviewed were wounded and recovering, and were discussing their experiences as part of glider and airborne units.
Obviously, the interviews are far from spontaneous – they are scripted, all the way down to the humorous asides. But it brought the experience of the soldier fighting in this war closer to those at home, listening about it.
So, to get an idea of what the day to day battles, and the drive to Berlin were like, here is that episode of War Telescope for November 4, 1944.