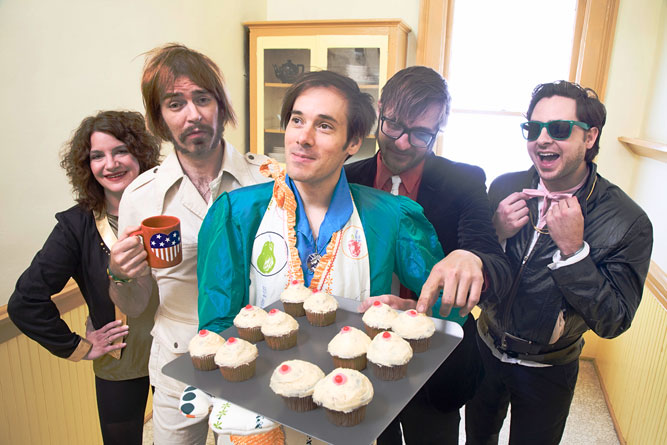 Of Montreal – Live At Motel Mozaique 2012 – Past Daily Soundbooth
Further evidence Athens Georgia is still a hotbed of creative endeavour with a concert this week by Athens born-and-based Of Montreal as performed at last years Motel Mozaique festival in The Netherlands.
Always inventive, Of Montreal have been a staple with indie audiences for a number of years now.
Kevin Barnes founded of Montreal, allegedly naming it for a failed romance with a woman from Montreal, Quebec. Barnes was the only member of the group prior to his relocation to Athens, Georgia. There, he met Derek Almstead (Circulatory System, Marshmallow Coast, Elf Power) and Bryan Poole, who also performs as The Late B.P. Helium. Together, they recorded their debut album, Cherry Peel, and subsequent releases The Bird Who Ate the Rabbit's Flower and The Bedside Drama: A Petite Tragedy.
After production on The Gay Parade, the band's third album, began in 1998, Poole left the band to focus on his involvement with Elf Power, another Elephant Six band. Barnes then recruited James Husband and Dottie Alexander, who had been performing together as Lightning Bug vs. Firefly. Derek moved from drums to bass, and Marshmallow Coast's Andy Gonzales joined soon after. Prior to the release of The Gay Parade in 999, of Montreal released a number of singles and a re-release of The Bird Who Continues to Eat the Rabbit's Flower.
By means of a Facebook post and a Kevin Barnes interview conducted by Stereogum.com, of Montreal's album Aureate Gloom was announced. The record was influenced by "the mid-to-late 1970s music scene in New York," including bands such as Talking Heads and Led Zeppelin. The album captures Barnes' emotions borne from their separation from their wife of 11 years and its aftermath. Barnes described the album as being "all over the place musically", lending to its reflection of his mindset during the time of its creation. The album was released March 3, 2015.
So here they at the , as they sounded at the 2012 Motel Mozaique festival, recorded by the venerable VPRO in The Netherlands, and broadcast by 3FM, the local FM station in the area.
Something to get you in the direction of the coming week.