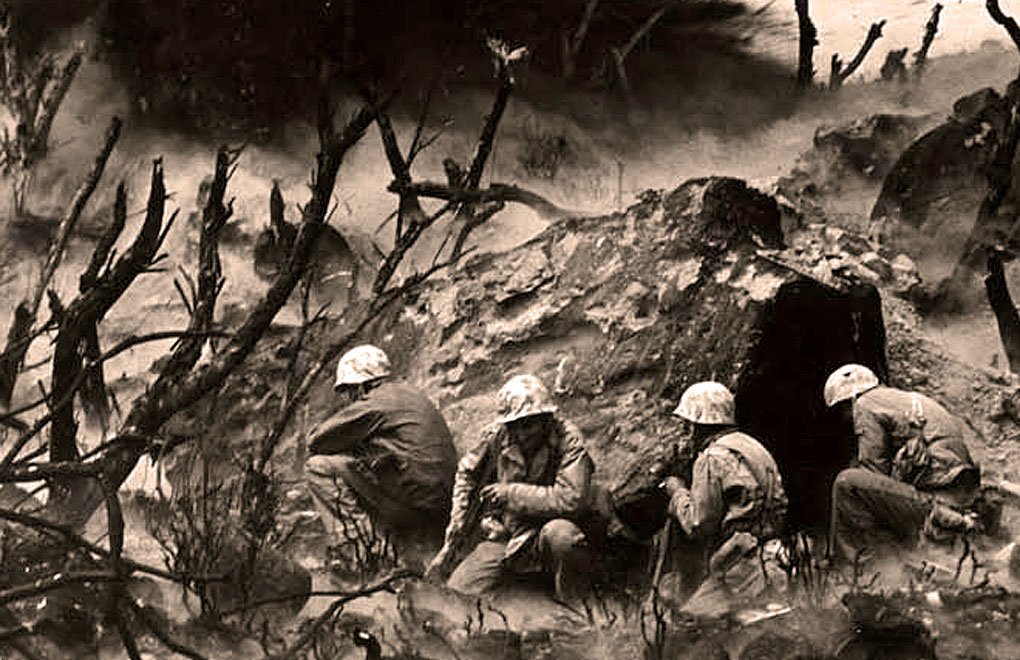 February 25, 1945 – Otherwise Uninhabited – Iwo Jima –
| | |
| --- | --- |
| | [laterpay_premium_download target_post_id="19895″ heading_text="Download For $1.99:" description_text="February 25, 1945 – Story Behind The Headlines – NBC Radio – Gordon Skene Sound Collection" content_type="link"] |
February 25th, 1945 news was crammed with reports of great advances in Europe. The Allied armies were on the outskirts of Cologne, and whatever setbacks occurred during the Battle of The Bulge in December had now been erased and the drive was on to Berlin.
But the big news of the week had to do with a tiny volcanic slab of rock in the Pacific, some 750 miles from Tokyo. Seemingly unimportant, but a major stepping stone to an eventual invasion of Japan itself. Iwo Jima was a mostly barren island with one prominent thing – Mount Suribachi. It was heavily fortified with a series of tunnels and bunkers, housing some 22,000 Japanese troops.
After 72 days of round-the-clock aerial and sea bombardment, Marines invaded the island. Casualties on both sides were heavy. Even though the constant bombardment reduced the island garrison to some 3,000 Japanese troops, fighting was intense and became some of the bloodiest during the entire Pacific campaign of World War 2.
This broadcast, on the 25th of February comes some 6 days after the initial landing and the ground battle for the island had just begun. As was the case with World War 2 news reports, they were slow, sketchy and heavily censored. So getting a complete picture of what was going on during the battle of Iwo Jima would be delayed for days, if not weeks.
Japanese combat deaths numbered three times the number of American deaths although, uniquely among Pacific War Marine battles, American total casualties (dead and wounded) exceeded those of the Japanese. Of the 21,000 Japanese soldiers on Iwo Jima at the beginning of the battle, only 216 were taken prisoner, some of whom were captured because they had been knocked unconscious or otherwise disabled. The majority of the remainder were killed in action, although it has been estimated that as many as 3,000 continued to resist within the various cave systems for many days afterwards, eventually succumbing to their injuries or surrendering weeks later.
Still, it was another major battle in a war that would come to a close within 6 months. But it was by no means over. And by no means a picnic.
Here is the weekend report, from February 25, 1945 from the program The Story Behind The Headlines reported and commented on by Cesar Searchinger.