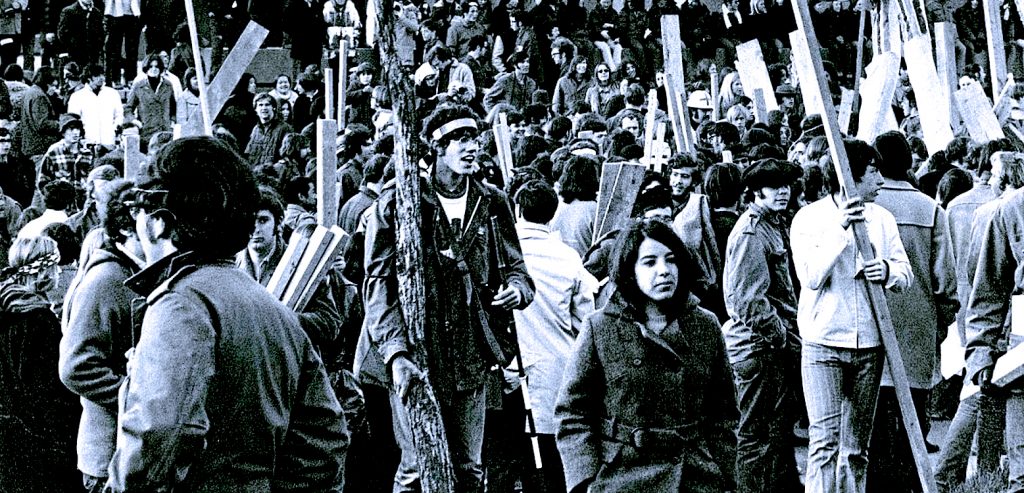 May 1969 – Out Of The Classroom And Into The Streets – College And Protests. Past Daily Weekend Reference Room.
May 7, 1969 – NBC-Today – Campus In Crisis – Gordon Skene Sound Collection –
May 1969 – As the war in Vietnam dragged on, protests to American military presence as well as social upheaval gained and increased intensity. From a handful in the mid-sixties to thousands by the end of the decade, the tide in opposition to the war was turning – and with it came an increase in Police presence and the resulting violence that came with it. It eventually involved the National Guard and the story would have an abrupt change at Kent and Jackson State Universities only a year later.
In this episode of NBC's Today Show, the entire week was devoted to the growing protests on college campuses throughout the U.S. By May 1969 the violence and Student takeover of the Cornell University campus brought two professors from the college to discuss and debate the issue on national TV. Professors Max Black and Richard Hoffenberg from Cornell took up sides on the debate.
The protests this time weren't necessarily about the war, but rather an issue of race on campus.
Early in the morning of Parents' Weekend, on April 18, 1969, 11 fire alarms rang out across the Cornell campus. At 3 a.m., a burning cross was discovered outside Wari House, a cooperative for black women students. The following morning, members of the Afro-American Society (AAS) occupied Willard Straight Hall to protest Cornell's perceived racism, its judicial system and its slow progress in establishing a black studies program.
On April 10, 1969, the Cornell administration had approved $240,000 to create an Afro-American Studies Center and a director, James Turner, had been identified months earlier. "The students wanted an autonomous program; they wanted the center to have control of its own destiny," said Eric Acree, librarian at the Africana Studies and Research Center.
At 9:40 a.m.on April 18, in an attempt to take the building back, white Delta Upsilon fraternity brothers entered the Straight and fought with AAS students in the Ivy Room before being ejected. Fearing further attacks, the black students brought guns into the Straight to defend themselves.
On the evening of April 19, in freezing rain, rookie Cornell police officer George Taber patrolled the perimeter of the occupied Willard Straight Hall unarmed. Members of Students for a Democratic Society — students far to the left of many of the black students inside — formed a ring around the Straight to lend support.
But change did come even more quickly after the takeover. "You now have recognition that other people need to be studied — women, gays and lesbians, Latinos, Asian Americans — and all of that is an outgrowth of the black studies movement," said Acree.
According to Robert L. Harris, professor of Africana studies, entire scholarly fields had been ignored. "The seriousness of Africana studies as an academic endeavor had been questioned, simply because the breadth and depth of existing scholarship was not widely known," he said. "In the decades since, the field has been the source of vast quantities of indisputably serious, relevant, compelling work."
To get a better idea of the climate of protest in the 60s and how much it permeated life in America, here is that debate, as it aired on May 7, 1969,