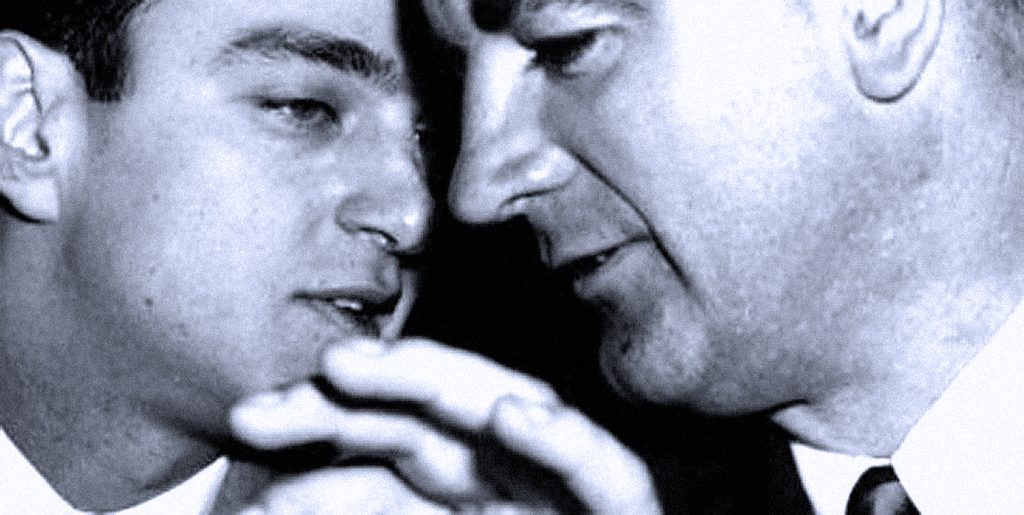 June 1, 1954 – Army-McCarthy Hearings – Relatively Quiet – Relatively Turbulent – Roy Cohn – Mary Driscoll – The Beat Goes On
June 1, 1954 – Re-cap of days Testimony – Army-McCarthy Hearings – CBS Radio – Gordon Skene Sound Collection –
June 1, 1954 – the infamous Army-McCarthy Hearings on Capitol Hill were grinding on. As presented in this re-cap of the days testimony (which was broadcast live and in its entirety), focus was on Roy Cohn with a surprise appearance by McCarthy's Secretary Mary Driscoll. The day started with McCarthy Aide Attorney Roy Cohn again on the witness stand, being cross-examined by Committee Counsel Jenkins. The questioning ranged over many subjects with Jenkins reading excerpts of previous testimony and asking if the answers were true or false.
The hearings went on after a lunch recess and the turbulent part started. From the floor of the Senate, Senator Flanders of Vermont made the bitterest attack on McCarthy yet to come from one of McCarthy's own Republican Senate colleagues. Citing eerie similarities between McCarthy's rhetoric and the rhetoric of Adolf Hitler, Flanders accused McCarthy of seeking to divide the country, and what he called "axe-happy attempts at splitting the Republican party". He likened the Wisconsin Senator to the cartoon character Dennis The Menace, the small boy always getting into trouble. He said the committee should investigate what he called "the mystery of the personal relations between Cohn and David Shine and McCarthy". Flanders concluded "If McCarthy were in the pay of the Communists he could not have done a better job for them".
Meanwhile, McCarthy's Secretary Mrs. Mary Driscoll took the witness stand to testify about McCarthy's filing setup. A recess was called and then a roll-call vote on the Senate floor. When Senator McCarthy came back from the vote he had a new topic of interest; Senator Flanders speech which he ridiculed as being the product of senility and laced with racial and religious bigotry and accused the Senator of trying to inject that bigotry into the effort to expose Communism. The hearings then continued with Mrs. Driscoll's testimony.
The hearings were scheduled to continue on the following day with Roy Cohn's testimony picking up where it left off earlier.
And so it went and for many more days after as presented by the CBS Radio Network on June 1, 1954.