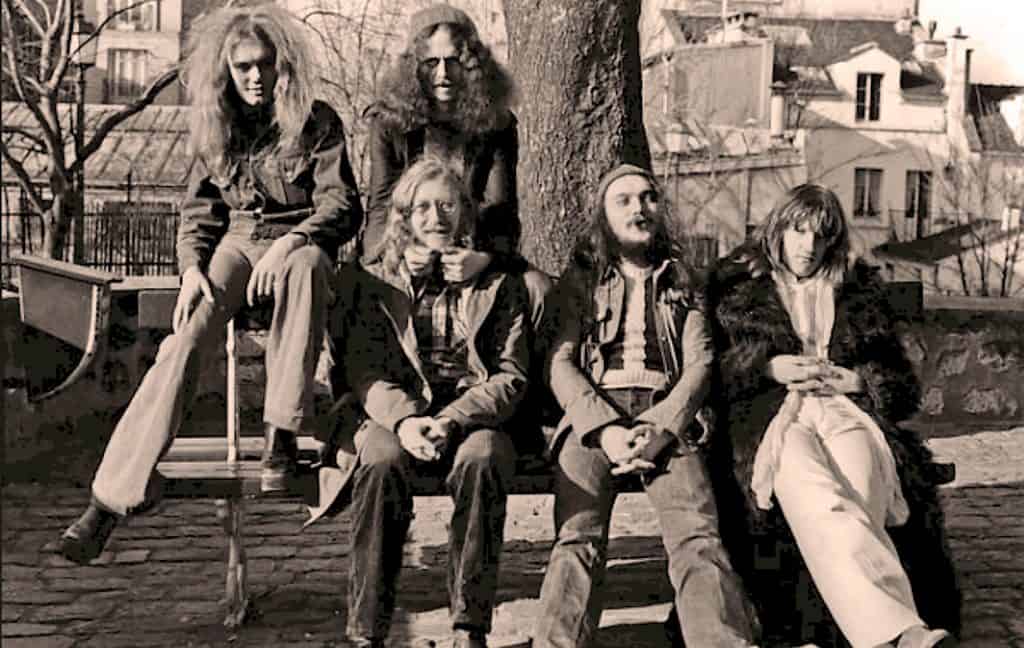 Ange In Session – Swiss TV – 1976 – Past Daily Weekend Soundbooth
Ange In session – RTS-Geneva – 1976 – Gordon Skene Sound Collection –
Ange in session this weekend. Recorded by RTS in Geneva, 1976.
If you're not familiar, Ange was one of the first wave of Progressive Rock bands to spring up in Europe around 1968-1969. They were largely influenced by Procol Harum and King Crimson and represented the sound of Prog with a French accent.
Although they've been virtually unknown in the U.S., save for the odd College Radio play that came about in the early 1970s – Ange hadn't been signed to a U.S. label or even distributed in the U.S. aside from the usual Import Record channels that sprang up in the mid-1960s and pretty much promoted by word of mouth by collectors who had the means to experiment and who proudly touted their discoveries. By and large, Ange was mostly rejected by the American press at the time, mostly because of the language barrier – which was a serious impediment to any band from overseas trying to break into this otherwise lucrative market at the time. Exposure was very limited and very rarely would any of these bands venture to cross the Atlantic to play the odd club or opening act at a concert. But mostly they were rejected because, like pre-Dark Side Pink Floyd at the time, they were too weird to be appreciated by anyone on this side of the Atlantic.
Well, that wasn't true. And word-of-mouth helped establish a number of otherwise overlooked bands at the time – and some of the press; the outsider publications, kept afloat by non-traditional advertising, got word out to larger audiences. So that by the time Genesis finally came to the U.S., crowds were lined up around the block at The Roxy on Sunset where they became the surprise success story of the 70s. Sadly, not so with Ange and much of the more adventuresome bands setting up shop under the aegis of Prog.
Ange were unique – they were instantly identified by the distinctive Keyboard sound they established, going back to their beginnings – and they also borrowed some of the theatrics established by Peter Gabriel, who was founding member and singer for Genesis as an inspiration for Christian Descamps.
Despite the seeming lack of recognition here, they flourished in Europe and are, to this day, still together (albeit with personnel changes). So it's further evidence you don't need the nod from America to establish yourself, and it was Americas loss they didn't take Ange's sheer virtuosity into consideration and just give the band a chance to blow away audiences on artistic merit alone. Oh well . . .
It is highly doubtful, unless you had a friend with a tape machine and the ability to transfer European standard recordings to American standard recordings, that you may have heard this show. The fact that it exists at all is something of a miracle – but stranger things have happened; over and over.
The mix is strange in spots and over-modulates in places where Christian Descamps heads for the hyper-dramatic. But it's a representative slice of what Ange were sounding like during their formative years and why those who became fans became hardcore fans ever since.
So crank it up and enjoy a sample – if you aren't fluent in French you may be straining to listen for words you may recognize. But the power of their message alone is apt to make you forget after the first 20 seconds.
Music just has the ability to effortlessly do that.
As you know, we've suspended our ads in order to make Past Daily a better experience without all the distractions and pop-ups. Because of that, we're relying more on your support through Patreon to keep us up and running every day. For as little as $1.00 a month you can make a huge difference as well as be able to download all of our posts for free (news, history, music). You'll see a banner just below. Click on that and become a subscriber – it's easy, painless and does a world of good.