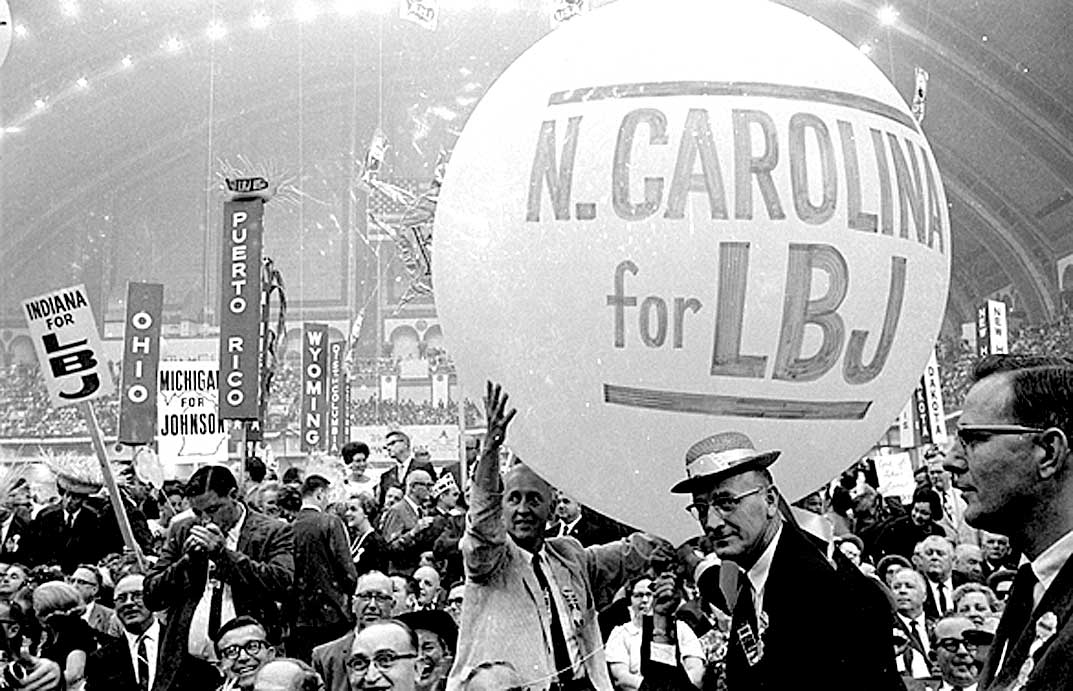 August 26, 1964 – Democratic Convention '64 – Pressing The Flesh And Big-Big Promises
| | |
| --- | --- |
| | [laterpay_premium_download target_post_id="16603″ heading_text="Download For $1.99:" description_text="August 26, 1964 – Democratic Convention Highlights – Gordon Skene Sound Collection" content_type="link"] |
1964 Democratic Convention (highlights) – August 26, 1964 – Gordon Skene Sound Collection
On this day fifty-seven years ago, the Democratic Convention was in the midst of nominating a running mate for Lyndon Johnson. The name Hubert Humphrey was bandied about, and even though Johnson made his choice known, the nomination and seconding process kept the suspense rolling for all of this August 26th and into the small hours of the 27th.
With the office of Vice President vacant since the murder of President Kennedy nine months previous, the question of who would fill it was paramount on the minds of the "chattering classes". It had been rumored that the President was going to choose his predecessor's brother-in-law Sargent Shriver but that Robert F. Kennedy had nixed this idea, claiming that he wasn't a real Kennedy and it would be impolitic to choose him. The Attorney General made it known that he deserved the second spot instead, but then President Johnson announced that sitting Cabinet members would not be under consideration.
Speculation centered on Senate Majority Whip Hubert H. Humphrey, a perennial candidate who had run for either the presidential or vice presidential nomination in every election since 1952, and was a champion of civil rights. On the second day of the convention, LBJ invited Humphrey and Connecticut Senator Thomas Dodd to the White House for an extended job interview. After a long wait, the President announced that his choice was Humphrey, who was nominated by voice vote the following day.
As an excerpt, to give you a flavor of the Convention and the drama, elation and politics going on at Boardwalk Hall in Atlantic City during one particular day in August of 1964, here is coverage via CBS News, starting with Senator Eugene McCarthy's nominating speech for colleague Hubert Humphrey.
Fifty-seven years ago it was a bit different.
As you know, we've suspended our ads in order to make Past Daily a better experience for you without all the distractions and pop-ups. Because of that, we're relying more on your support through Patreon to keep us up and running every day. For as little as $1.00 a month you can make a huge difference as well as be able to download all of our posts for free (news, history, music). You'll see a banner just below. Click on that and become a subscriber – it's easy, painless and does a world of good.