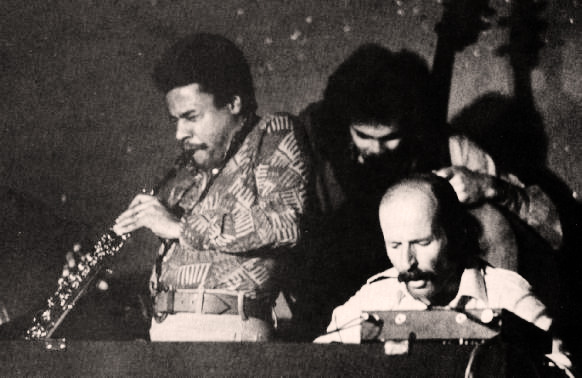 Weather Report – Live In Austria 1971 – Past Daily Downbeat
One of the earliest known live concerts by the groundbreaking Jazz/Funk/Fusion band Weather Report, recorded during their initial tour of Europe in 1971 by Austrian Radio.
Weather Report, along with the pioneering change in direction of Miles Davis and his influence on John McLaughlin who formed The Mahavishnu Orchestra did a lot to galvanize a whole new sub-genre in Jazz. It was also a major influence among Rock bands in the early 1970s, signaling the Progressive Movement throughout Europe at the time.
Like all new direction changes, it was met with a lot of resistance. Jazz purists derided it for being too radical and not really Jazz. Rock critics derided the new Progressive Movement, saying it was pretentious and too much like Jazz to really be considered Rock.
Fortunately, for the music world the pioneers had no intention of giving up, and that period has been looked at as exciting in retrospect.
This is as complete a recording of that early period of Weather Report as is possible. Undoubtedly more will show up as the Radio outlets take a look at their archives and see what's really hiding in there.
Here's what's on the player:
Weather Report

International Music Forum, Stiftshoff, Ossiach, Austria, 27 July 1971 

01. Firefish 13:49

02. Early Minor 9:32

03. Morning Lake 12:15

04. Waterfall 7:33

05. Umbrellas 14:11

06. Eurydice / The Moors 6:24

07. Seventh Arrow 5:43

08. Orange Lady 8:08

Joe Zawinul, piano & electric piano

Wayne Shorter, tenor & soprano sax

Miroslav Vitous, bass, el bass

Alphonse Mouzon, drums

Dom Um Romao, percussion & flute
Shortly after this tour, the band lineup would change. So this recording is doubly rare, as this is the original lineup of what would be numerous lineups for Weather Report during their tenure.
Enjoy.
As you know, we've suspended our ads in order to make Past Daily a better experience for you without all the distractions and pop-ups. Because of that, we're relying more on your support through Patreon to keep us up and running every day. For as little as $1.00 a month you can make a huge difference as well as be able to download all of our posts for free (news, history, music). You'll see a banner just below. Click on that and become a subscriber – it's easy, painless and does a world of good.