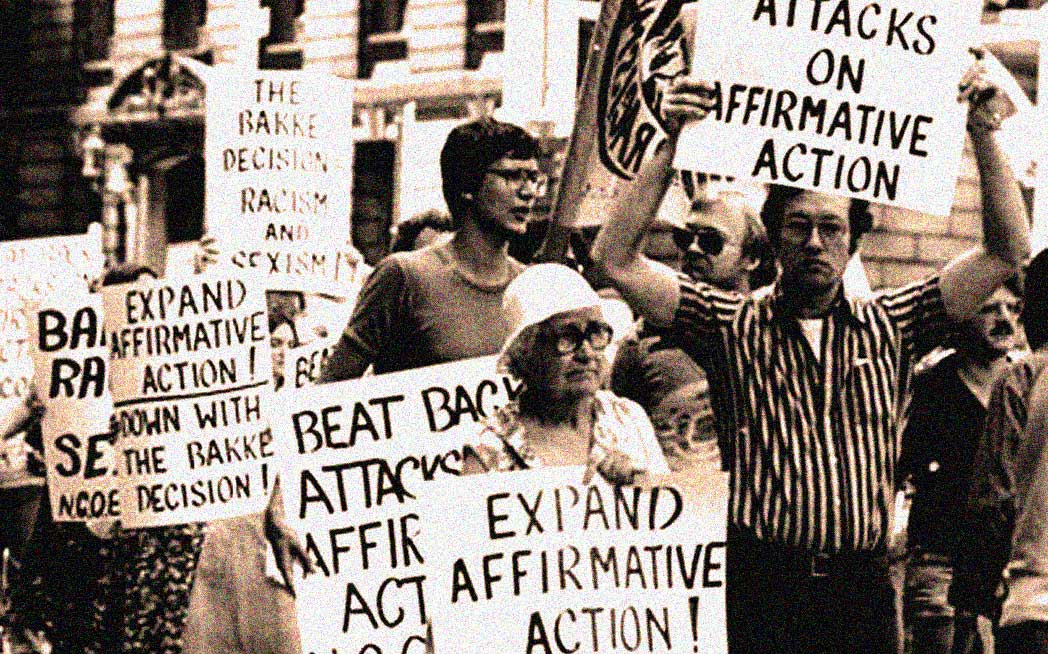 October 8, 1977 – Affirmative Action And The Bakke Case – Peace Talks And Gunshots –
– CBS World News Roundup – October 8, 1977 – Gordon Skene Sound Collection –
A day loaded with negotiations, decisions and protest, this October 8th in 1977.
Beginning with the UN and the question of Middle-East Peace talks, or attempt at Peace talks, or thinking about attempting Peace Talks was underway this day. Fits and starts and nothing confirmed. Foreign Minister Moshe Dayan left New York for Los Angeles to spend the weekend. His answer when asked was Israel and the U.S. still didn't see eye to eye – and that was it. Egypt said the obstacles had been surmounted. Syria was still the big question mark. The Middle-East and the endless quest for a settlement went on.
Meanwhile, in India – pro-Indira Gandhi demonstrations got heated in Bombay overnight, with Police firing teargas into the swelling crowd of protesters which were numbering into the hundreds of thousands. Gandhi was on the comeback trail – and her arrest earlier in the week on what the government called "corruption charges"  based on allegations she had profited from a lucrative oil contract, fueled the protests even more. It was clear the government did the wrong thing by thinking they were doing the right thing and the popularity of Indira Gandhi soared almost overnight.
Thailand was getting nervous about the balance of power, based on the arrival of Russian MIG-21s to neighboring Laos. Laos, a Communist-influenced neighbor in Southeast Asia. Thailand's air force consisted of one squadron of outmoded F-5's from the U.S. – and staring across the Mekong River were 10 MIGs, parked on a Laotian airfield in Vientiane.
Things were heating up in the Basque region of Spain, as attackers firing machine guns assassinated the Provincial Governor of Vizcaya and three of his bodyguards. As of this moment, no one was claiming responsibility.
In Washington, President Carter was spending time at Camp David, but not without dragging piles of homework with him. Not the least being the decision whether or not to veto a Senate and House passed bill which effectively offset Mr. Carter's action in granting automatic upgrading to Vietnam Veterans who received less-than-honorable discharges. The Congressional action, which would deny benefits to such veterans would automatically become law unless Jimmy Carter overruled it by midnight. Although reportedly not happy with Congresses action, he was rumored to let it take effect.
And the infamous Bakke Decision over Affirmative action was stirring up demonstrations on both coasts. A committee to overturn the Bakke decision was holding a rally in Washington on this day. In Los Angeles, a judge citing a lower-court Bakke decision ordered a halt to the practice of setting a 10% quota for the awarding of Federal Public Works Funds to minority businesses. The case of Allan Bakke, which was about to come before the Supreme Court was of great interest. Allan Bakke was an honor student while in college, and he contended he was denied admission to UC Davis Medical School because he was white, while less qualified minorities students were allowed in under a Special Admissions Program. Bakke's attorney contended his 14th Amendment rights were violated and he was a victim of reverse-discrimination. UC Davis had set aside 16 of the 100 openings at the Davis Medical School for disadvantaged or minority students which the University called Affirmative Action. And many observers felt the entire question of Affirmative Action was at stake in the Bakke case. The Supreme Court was expected to give a decision within the week.
And that's a little of what went on, this October 8th in 1977 as presented by The CBS World News Roundup.
As you know, we've suspended our ads in order to make Past Daily a better experience for you without all the distractions and pop-ups. Because of that, we're relying more on your support through Patreon to keep us up and running every day. For as little as $1.00 a month you can make a huge difference as well as be able to download all of our posts for free (news, history, music). You'll see a banner just below. Click on that and become a subscriber – it's easy, painless and does a world of good.