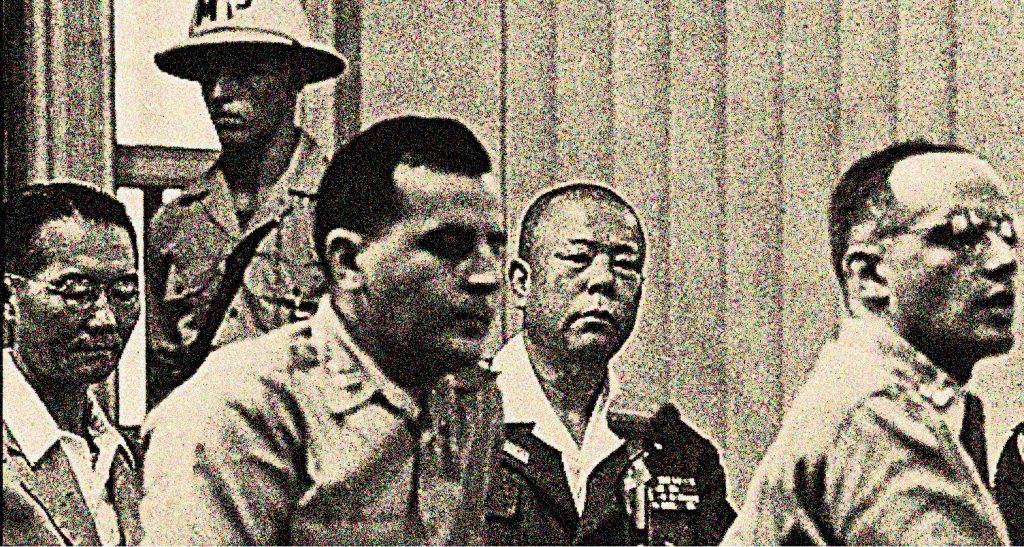 December 1945 – Tokyo War Crimes Tribunal – Report On Interview With General Yamashita – Past Daily Reference Room
General Yamashita Report – Japanese War Crimes – Robert Stewart – Mutual Radio – December 2, 1945 – Gordon Skene Sound Collection –
In World War 2 history, much has been written regarding the Nuremberg War Crimes Tribunal, where figures in the Nazi government and high-ranking military officials were put on trial for crimes against humanity. Somewhat less emphasized but no less critical were the War Crimes trial taking place for the Pacific side of the War.
Eleven countries (Australia, Canada, China, France, India, the Netherlands, New Zealand, the Philippines, the Soviet Union, the United Kingdom, and the United States) provided judges and prosecutors for the court. The defense comprised Japanese and American lawyers.
Twenty-eight Japanese military and political leaders were charged with fifty-five separate counts encompassing the waging of aggressive war, murder and conventional war crimes committed against prisoners-of-war, civilian internees, and the inhabitants of occupied territories. The defendants included former prime ministers, former foreign ministers, and former military commanders.
Tomoyuki Yamashita, formerly Commanding General of the Fourteenth Army Group of the Imperial Japanese Army in the Philippine Islands, was arraigned before a United States Military Commission and charged with unlawfully disregarding and failing to discharge his duty as commander to control the acts of members of his command by permitting them to commit war crimes.
The evidence before the Commission regarding the accused's knowledge of, acquiescence -in, or approval of the crimes committed by his troops was conflicting, but of the crimes themselves, many and widespread both in space and time, there was abundant evidence, which in general the Defense did not attempt to deny.
The Commission sentenced Yamashita to death and its findings and sentence were confirmed by higher military authority.
This report of an interview conducted by Mutual reporter Robert Stewart is given several days before the verdict was handed down.
Here is that report.
As you know, we've suspended indefinitely our ads in order to make Past Daily a better experience for you without all the distractions and pop-ups. Because of that, we're relying more on your support through Patreon to keep us up and running every day. For as little as $5.00 a month you can make a huge difference as well as be able to download all of our posts for free (news, history, music). You'll see a banner just below. Click on that and become a subscriber – it's easy, painless and does a world of good.