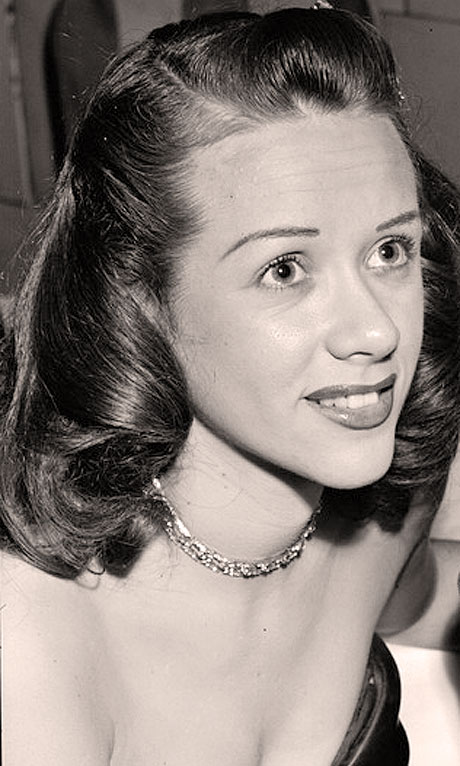 Fran Warren (With Claude Thornhill And His Orch.) – 1947 – Nights At The Round Table
– As Long As I'm Dreaming – Claude Thornhill Orch with Fran Warren 1947 – Lang-Worth Transcriptions –
Jumping back into Big Band territory, after an extended hiatus (for no good reason). Tonight it's the legendary Fran Warren with the equally legendary Claude Thornhill in a 1947 track cut for the Lang-Worth Transcription company, As Long As I'm Dreaming.
Fran Warren made several sides for the Thornhill aggregation before heading into solo territory in 1948. Her most famous song during this period was the 1947 hit, A Sunday Kind Of Love.After leaving the Thornhill band she wound up on several labels, including RCA Victor and MGM and had a string of hits during the early 1950's.
After some time in a chorus line at the Roxy Theater, Fran Warren joined Art Mooney's big band and worked with Billy Eckstine, who gave her the name "Fran Warren". She spent almost two years with the Charlie Barnet band before achieving some recognition with Claude Thornhill. In 1947, she reached the music charts for the first time with the song "A Sunday Kind of Love" written by her manager, Barbara Belle.
She began a solo career in 1948 when she signed a contract with RCA Victor. She had a hit record with "I Said My Pajamas (and Put On My Pray'rs)", a duet with Tony Martin which reached No. 3 on the charts. During the same year, she sang on the radio program Sing It Again. In the early 1950s, after a number of her records failed to chart, she signed with MGM Records. Her last chart hit was "It's Anybody's Heart" in 1953. Her albums included Hey There! Here's Fran Warren arranged by Marty Paich and Something's Coming arranged by Ralph Burns and Al Cohn. Warren performed in the musicals Mame, South Pacific, and The Pajama Game and went on tour with the big band of Harry James.
These sessions cut for Lang-Worth are interesting as they didn't get that much circulation at the time (being for radio programming and all, and not for commercial release) and often feature music that wasn't recorded in any other form.
Always something new to discover or look at what you might have missed or overlooked.
As you know, we've suspended indefinitely our ads in order to make Past Daily a better experience for you without all the distractions and pop-ups. Because of that, we're relying more on your support through Patreon to keep us up and running every day. For as little as $5.00 a month you can make a huge difference as well as be able to download all of our posts for free (news, history, music). You'll see a banner just below. Click on that and become a subscriber – it's easy, painless and does a world of good.