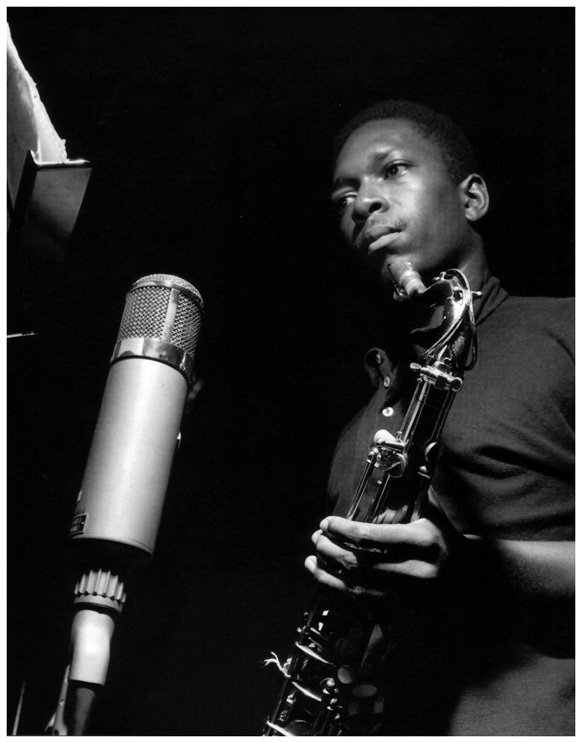 John Coltrane – Live In Stockholm – 1962 – Past Daily Downbeat
– John Coltrane Quartet 1962-11-19 Sveriges Radio – Konserthuset Stockholm Sweden –
Not having posted any John Coltrane in a while, I realized not everything he recorded, officially or unofficially, has been re-issued. And even if it has, some material just disappears. And John Coltrane is one artist whose creative output needs to be preserved and available to everyone in perpetuity.
So this week I'm running a concert recorded live in Stockholm on November 19, 1962. It was originally broadcast (this, or the other one listed as Late Concert) by Sveriges Radio that year.
In 1962, Eric Dolphy departed and Jimmy Garrison replaced Workman as bassist. From then on, the "Classic Quartet", as it came to be known, with Tyner, Garrison, and Jones, produced searching, spiritually driven work. Coltrane was moving toward a more harmonically static style that allowed him to expand his improvisations rhythmically, melodically, and motivically. Harmonically complex music was still present, but on stage Coltrane heavily favored continually reworking his "standards": "Impressions", "My Favorite Things", and "I Want to Talk About You".
The criticism of the quintet with Dolphy may have affected Coltrane. In contrast to the radicalism of his 1961 recordings at the Village Vanguard, his studio albums in the following two years (with the exception of Coltrane, 1962, which featured a blistering version of Harold Arlen's "Out of This World") were much more conservative. He recorded an album of ballads and participated in album collaborations with Duke Ellington and singer Johnny Hartman, a baritone who specialized in ballads. The album Ballads (recorded 1961–62) is emblematic of Coltrane's versatility, as the quartet shed new light on standards such as "It's Easy to Remember". Despite a more polished approach in the studio, in concert the quartet continued to balance "standards" and its own more exploratory and challenging music, as can be heard on the Impressions (recorded 1961–63), Live at Birdland and Newport '63 (both recorded 1963). Impressions consists of two extended jams including the title track along with "Dear Old Stockholm", "After the Rain" and a blues. Coltrane later said he enjoyed having a "balanced catalogue."
Here is the group lineup as well as what's played on this memorable concert:
JOHN COLTRANE QUARTET:
Konserthuset, Stockholm, Sweden, 19th November 1962
late show
Personnel:
JOHN COLTRANE: Tenor saxophone, Soprano saxophone
McCOY TYNER: Piano
JIMMY GARRISON: Bass
ELVIN JONES: Drums
01) Mr P.C. [16:58]
02) My Favorite Things [24:02]
03) Every Time We Say Goodbye [4:36]
04) Traneing In [16:48]
I hope to add the earlier set at a later date. But for now . . .
Note: The sound quality is really quite good for the time period, though not the stellar quality some posts are. It's an "aircheck" and so it suffers from a certain lack of high-end you'd normally find. Also, the announcements (in Swedish) are cut out so there are fade ins and fade outs from track to track. All of these are moot points, I know. But every effort is made to give you the best sound possible. History doesn't have to sound terrible, but sometimes it doesn't sound as good as we'd like.
Enjoy.
As you know, we've suspended indefinitely our ads in order to make Past Daily a better experience for you without all the distractions and pop-ups. Because of that, we're relying more on your support through Patreon to keep us up and running every day. For as little as $5.00 a month you can make a huge difference as well as be able to download all of our posts for free (news, history, music). You'll see a banner just below. Click on that and become a subscriber – it's easy, painless and does a world of good.