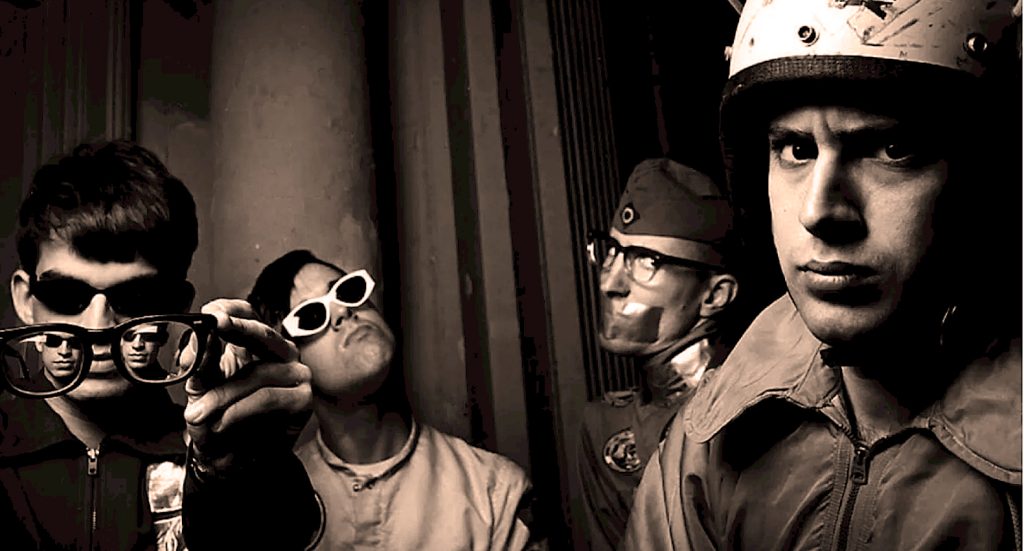 Man Or Astro-Man? In Session – 1993 – Past Daily Soundbooth
Man Or Astro-Man? In Session for John Peel – December 21, 1993 – BBC Radio 1 –
A few extra-terrestrial Surf notes from Man or Astro-Man tonight. Their very first session for John Peel recorded on December 21, 1993 by BBC Radio 1.
Man or Astro-man? formed in Auburn, Alabama in the early 1990s and came to prominence over the following decade. Primarily instrumental, Man or Astro-man? blended the surf rock style of the early 1960s like that of Dick Dale and The Spotnicks with the new wave and punk rock sounds of the late 1970s and early 1980s. Man or Astro-man? was known for their anachronistic dedication to science fiction themes, audio samples, obscure electronic devices (such as theremins and tesla coils), and high-energy live performances. Their earlier albums like Is It … Man or Astroman? and Destroy All Astromen! were known for their traditional surf rock instrumentation and sci-fi sound bite song introductions, but their later albums like EEVIAC… and A Spectrum of Infinite Scale were known for their use of synthesizers, printers (like the Apple ImageWriter II), and their more abstract, experimental sound. Their recordings were often peppered with sound bites from obscure science fiction films and TV shows.
It's largely believed the group took its name from the poster of the U.S. release of the Japanese film The Human Vapor, which includes the tagline "IS HE MAN OR ASTRO-MAN?", the line seemingly appropriated as the title of their first album, Is It … Man or Astroman?
Man or Astro-man recorded ten albums between 1993 and 2001 (including the tour-only release A Spectrum of Finite Scale), as well as two CD EPs, and a plethora of singles and contributions to various artists compilation albums. Many of the singles were available on multiple colors of vinyl, some with as many as six variations (see Inside the Head of… Mr. Atom). Their 2001 release, Beyond the Black Hole, was a remixed version of one of their earlier albums, What Remains Inside a Black Hole.
And as a reminder of what the 90s also sounded like, here is that first session from Man or Astro-Man for John Peel on December 21, 1993.
As you know, we've suspended indefinitely our ads in order to make Past Daily a better experience for you without all the distractions and pop-ups. Because of that, we're relying more on your support through Patreon to keep us up and running every day. For as little as $5.00 a month you can make a huge difference as well as be able to download all of our posts for free (news, history, music). You'll see a banner just below. Click on that and become a subscriber – it's easy, painless and does a world of good.