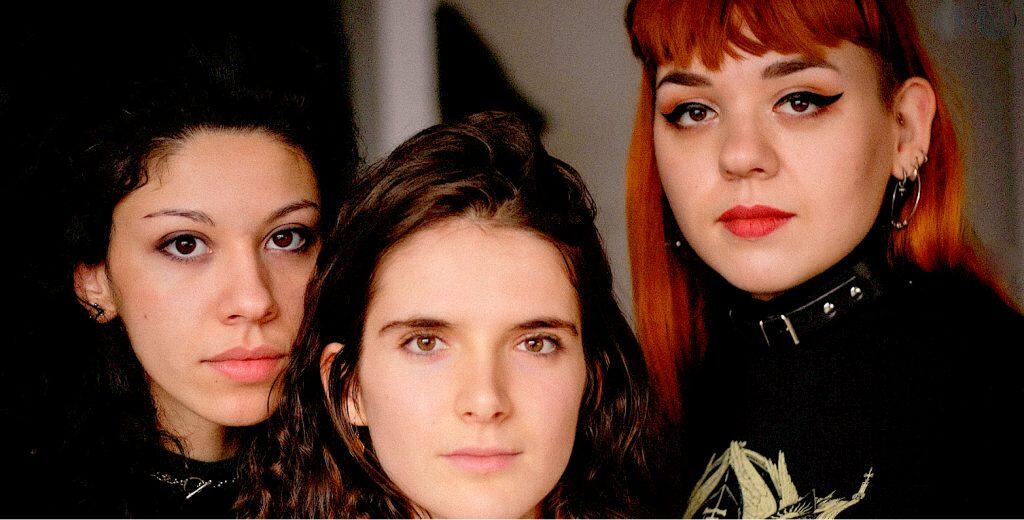 Grandma's Ashes – In Session – 2020 – Past Daily Soundbooth: Rock Without Borders
Grandma's Ashes – in session for Les Capsules – April 9, 2020 –
Over to Paris for a brief stop-off and a set by Parisian trio Grandma's Ashes, who have been variously described as Stoner-Prog, Stoner-Metal, Stoner-Goth – the operative word in all these descriptions is Stoner. They are, above all a power trio. Eva, Myriam and Edith found each other online and shared a love for Punk Rock and Noise. Eva, who plays bass and sings, freely admits she's been inspired by Flea and Chris Squire from Yes while Myriam, whose dad is a Blues guitarist, latched on to Muddy Waters and Buddy Guy before discovering Frank Zappa.
Together they neatly fit and have been playing for three years. Their debut ep, Fates came out in January of 2021, right in the middle of the Pandemic, so getting the momentum back on track has been not that much different than everyone else whose careers were temporarily put in limbo while everyone donned masks and social-distanced.
But they're wasting no time getting back up to speed. Touring primarily in France since February this year and going, it looks, until sometime in November – they're covering a lot of ground. No word on whether or not they are heading across the Channel and playing any gigs in the UK and no word at all if there is anything planned for this continent any time in the future.
Like a lot of overseas bands right now, the majority of their songs are in English without a trace of an accent, which has proven to be a wise step for a number of artists, especially trying to expand your fanbase and become more of a worldwide endeavor.
A short set at just over 9 minutes – check them out. They have a Bandcamp page and The Fates is available on CD, download or Vinyl as well as their single Daddy Issues. Support them – and like their Facebook page!
Play loud.
As you know, we've suspended indefinitely our ads in order to make Past Daily a better experience for you without all the distractions and pop-ups. Because of that, we're relying more on your support through Patreon to keep us up and running every day. For as little as $5.00 a month you can make a huge difference as well as be able to download all of our posts for free (news, history, music). You'll see a banner just below. Click on that and become a subscriber – it's easy, painless and does a world of good.