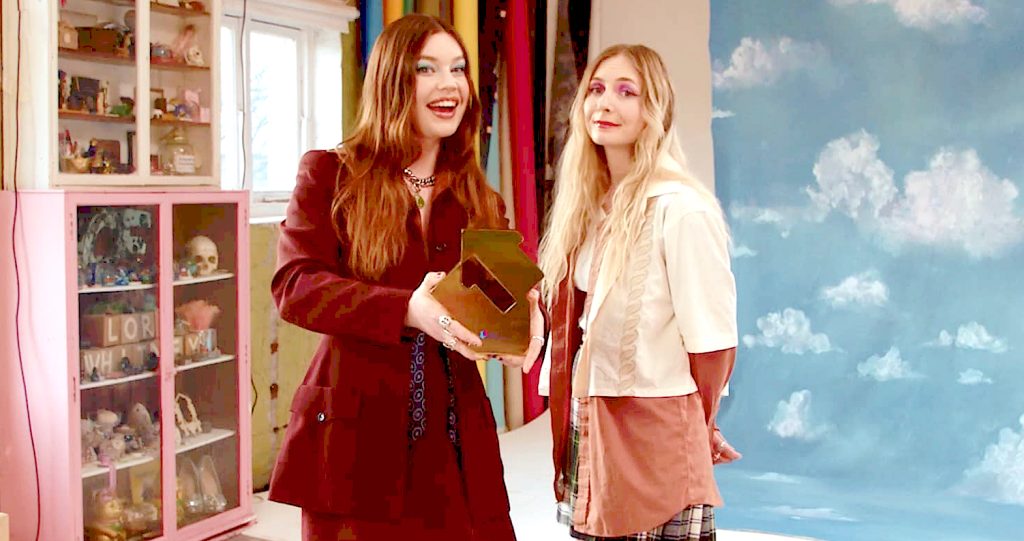 Wet Leg – Live At Glastonbury – 2022 – Past Daily Soundbooth: Festival Edition
Wet Leg – live at Glastonbury – 2022 – Recorded June 26, 2022 – BBC 6 Music –
Sticking around Glastonbury this week for a set by Wet Leg. Recorded and broadcast live on June 26 by the venerable BBC 6 Music.
Kind of a lightning-fast ascent, these two – forming in 2019 – Their very first single going viral in 2021 – their debut album shooting straight to the number one slot on the charts and now one of the "bands to keep watching" at Glasto in 2022.
Wet Leg are Rhian Teasdale and Hester Chambers. Teasdale had performed for many years on the Isle of Wight as a local musician and pianist, and prior to forming Wet Leg, was known as RHAIN and was linked to the music scene in Bristol. In 2013 Teasdale performed as RHAIN her song "Humdrum Drivel". In 2014 she was photographed by Cosmopolitan Magazine while attending the Isle of Wight music festival.
Teasdale and Chambers first met at Isle of Wight College. After ten years of friendship, they became a musical duo in 2019 under the name Wet Leg, signed with Domino Recording Company. They chose the name by playing a game picking different emoji combinations and getting to Wet Leg, it stuck.
Their debut single, "Chaise Longue", was released on 15 June 2021, and gained media notice for earning millions of streams and video views.Their second single, "Wet Dream", was released on 28 September 2021. Variety noted, "It's rare that a new group releases two songs and they're both great". They appeared on Later… with Jools Holland on BBC2, on 30 October 2021. On 29 November 2021, they announced their debut self-titled album, released on 8 April 2022 via Domino. The same day, Wet Leg released the double-single "Too Late Now" / "Oh No".
In an interview with Diffus, the band stated that their name came from a regional epithet from the Isle of Wight to describe non-islanders on the island. Those who had crossed the Solent to enter the isle were said to have a wet leg from getting off the boat.
In 2019 they toured the UK playing songs from their first album. It was announced that they would tour Australia and New Zealand as the support band for a tour by Harry Styles in 2023. Wet Leg appeared on Later… with Jools Holland on the BBC in November 2021 and they returned for the first part of his next series in May 2022.
In an interview in June 2022, Wet Leg announced that they had already completed their second studio album, but it "wouldn't be arriving anytime soon".
So just to make sure you aren't imagining things, here they are as they were last weekend in Glastonbury – wowing the crowd.
As you know, we've suspended indefinitely our ads in order to make Past Daily a better experience for you without all the distractions and pop-ups. Because of that, we're relying more on your support through Patreon to keep us up and running every day. For as little as $5.00 a month you can make a huge difference as well as be able to download all of our posts for free (news, history, music). You'll see a banner just below. Click on that and become a subscriber – it's easy, painless and does a world of good.