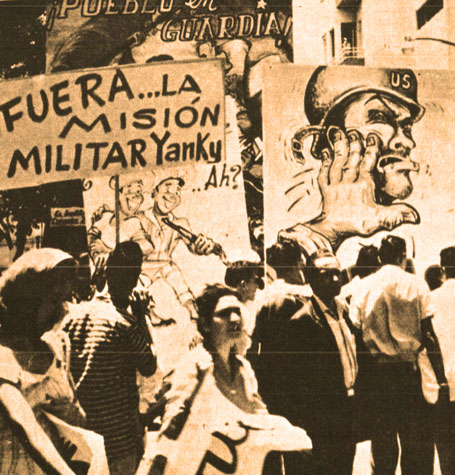 July 11, 1960 – President Eisenhower – Policy On Latin America – Shoring Up The Cracks.
Pres. Eisenhower – Latin America Policy address – July 11, 1960 – Gordon Skene Sound Collection
When vice-President Nixon returned from a disastrous tour of Latin America in 1958, concern was high that we were losing our sphere of influence in that region of the world. When Cuba underwent it's pro-Moscow upheaval in 1959, and later, when Venezuela indicated it was on shaky ground, it sent alarm bells off all over Washington for some dramatic shift in our foreign policy towards Latin America.
So on this day in 1960, President Eisenhower made an address to the nation that a Summit Conference was to take place in Bogota, Colombia. Dubbed Operation Pan-America, it sought to take measures for social improvement and economic development in Latin America (i.e. Good PR). The end result was the Act of Bogota on September 13, 1960 and an active re-engagement of U.S./Latin America relations.
President Eisenhower: During my trip to South America in February and in numerous talks in Washington, I have obtained the views of leading Latin American statesmen on the problems which their countries and the area in general now face. They have told me of the aspirations and needs of their peoples for homes and land and a better life, and of their efforts to meet those needs.
I know that other leaders in the Americas are thinking and working along similar lines. I have given a good deal of thought to how the United States might do more in helping these efforts.
The National Advisory Committee on Inter-American Affairs, which I appointed last year to advise the Secretary of State and myself on matters of hemispheric concern, has given us the benefit of its knowledge and experience.
Within the Organization of American States, joint action is underway. The Council of that Organization, on the initiative of Venezuela, voted three days ago to call a meeting of their foreign Ministers to consider matters of extreme gravity in the Caribbean area–matters that involve a challenge to the ideals and purposes of the American community. The United States supported this move.
In September, the economic representatives of the twenty-one American Republics will convene in Bogota, Colombia, to consider an equally important component of our hemispheric future–the problem of social reform and economic growth. This problem is embraced within a joint hemispheric concept known as Operation Pan-America–a concept initially suggested by President Kubitschek of Brazil. This will be further developed at Bogota."
Here is that complete address by President Eisenhower on July 11, 1960.
In case you didn't already know, we kicked off our Patreon Summer Subscription Drive a little while ago. So for the next week or so we'll be getting down on bended knee, asking for your help and support by taking out a subscription to help keep Past Daily up and running. As a Patron you can download all the audio we have on the site, which you otherwise wouldn't be able to do. So, for as little as $5.00 a month (a small Latté at Starbucks) you can keep us running, put your own archive together and listen to some amazing (and very rare) audio of just about everything you can think of from as far back as you can imagine. History is what we're all about and turning you on to things you may not be familiar with or forgot about is what we like to do best.
All you have to do is click on the red link just below here and sign up. It's easy, painless and does a world of good – and of course, we'll love you for it.