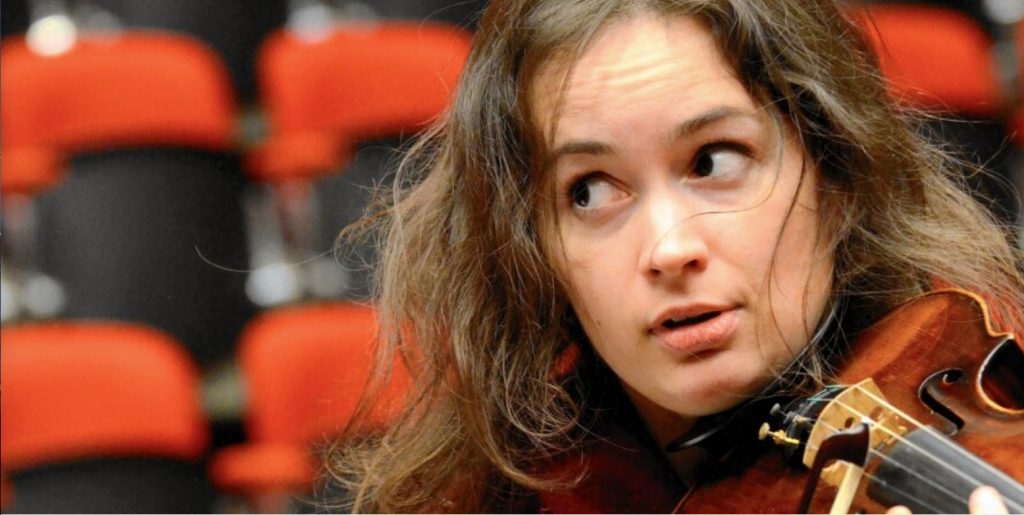 Patricia Kopatchinskaja With Mirga Grazynite-Tyla And Orchestre Philharmonique de Radio France In Concert – 2021 -Past Daily Mid-Week Concert
Patricia Kopatchinskaja, violin – Orchestre Philharmonic de Radio France, Mirga Grazynite-Tyla, conductor – April 27, 2021 – Radio France Musique –
Over to Paris this week for a concert during lockdown – Orchestre Philharmonique de Radio France, led by Mirga Grazynite-Tyla and featuring the brilliant Patricia Kopatchinskaja, violin – in a progrm of music by Weinberg, Shostakovich and Igor Stravinsky – recorded (and socially distanced) on April 27, 2021 at l'Auditorium de Radio France in Paris.
No audience to speak of – faint applause. Just committed music making.
Starting with Mieczyslaw Weinberg's Aria Opus 9 (Orchestral version) – and then the Shostakovich Violin Concerto (with Patricia Kopatchinskaja, solo). Next up is Stravinsky's l'Histoire du Soldat and ending the concert with Weinberg's Symphony Number 3 opus 45.
Patricia Kopatchinskaja has played with most of the important European orchestras including Vienna, Berlin and London Philharmonic. She regularly plays in Japan and Australia and recently also extended her activity to the United States, South America, Russia and China. She has ongoing collaborations with conductors including Teodor Currentzis, Péter Eötvös, Iván Fischer, Heinz Holliger, Vladimir Jurowski, Andrés Orozco-Estrada, Kirill Petrenko, Sir Simon Rattle and François-Xavier Roth.
Kopatchinskaja has been outspoken in her support of new works and living composers, as well as works not considered part of the standard violin repertoire. She has performed and recorded works by Luca Francesconi, Francisco Coll García, Mark-Anthony Turnage, Sanchez-Chiong, Stefano Gervasoni, Simone Movio, Michael Hersch, Esa Pekka Salonen, Péter Eötvös, Heinz Holliger, and Michel van der Aa. Her "Time and Eternity" program with Camerata Bern, recorded for Alpha Classics, featured music by John Zorn, Ikonnikow, Tadeusz Sygietynski, Machaut, and Bach, along with Karl Amadeus Hartmann's Concerto Funebre.
Mirga Gražinytė-Tyla became Second Kapellmeister at the Theater Heidelberg in the 2011–2012 season. In 2012, she won the Nestlé and Salzburg Young Conductors Competition. With the 2013–2014 season, she became First Kapellmeister at the Bern Opera. Gražinytė-Tyla became music director of the Salzburger Landestheater with the 2015–2016 season, with an initial contract of 2 seasons. She concluded her music directorship of the Salzburger Landestheater after the 2016–2017 season.
In the US, Gražinytė-Tyla was a Gustavo Dudamel Fellow of the Los Angeles Philharmonic for the 2012–2013 season. In July 2014, she was named the orchestra's assistant conductor, on a 2-year contract. In August 2015, the orchestra named her its new associate conductor, effective with the end of the 2015–2016 season, contracted through 2017.
In February 2019, Gražinytė-Tyla signed an exclusive long-term recording contract with Deutsche Grammophon (DG). She is the first female conductor ever to sign an exclusive recording contract with DG. Her first DG recording, issued in 2019, was of symphonies of Mieczysław Weinberg, with the CBSO. In October 2020, it won the 'Album of the Year' prize at the annual Gramophone Awards. Her following DG albums include works by Raminta Šerkšnytė, Benjamin Britten, Ralph Vaughan-Williams, William Walton.
With a very small audience in attendance, you're left up to your own devices to supply the enthusiasm. Good music-making all around.
Enjoy the concert.
As you know, we've suspended indefinitely our ads in order to make Past Daily a better
experience for you without all the distractions and pop-ups. Because of that, we're relying more on your support through Patreon to keep us up and running every day. For as little as $5.00 a month you can make a huge difference as well as be able to download all of our posts for free (news, history, music). You'll see a banner just below. Click on that and become a subscriber – it's easy, painless and does a world of good.