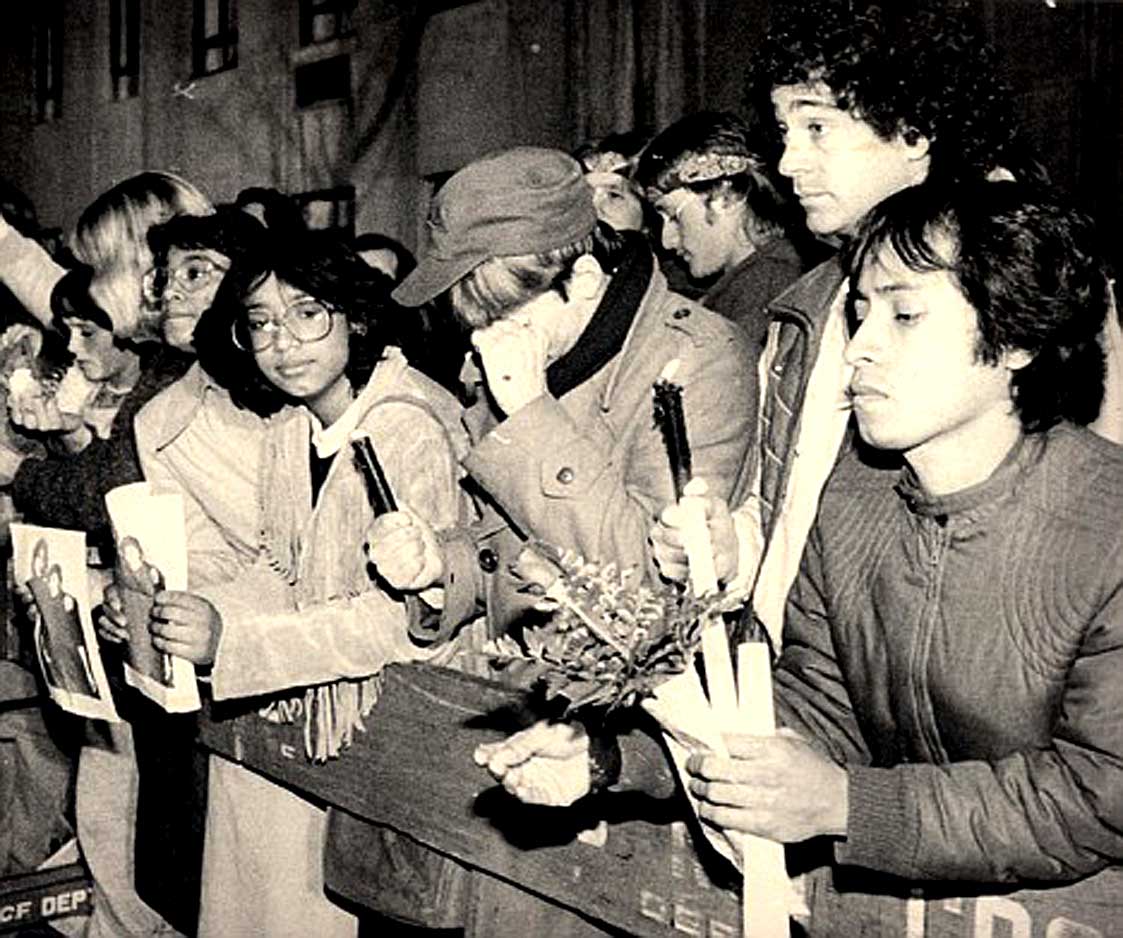 John Lennon – Dream Ends At The Dakota – December 8, 1980
John Lennon – a life ended at the end of a gun outside The Dakota Apartments in New York City, 42 years ago tonight.
In the 42 years since his death, so much has been written, speculated over, investigated and wondered about, that virtually nothing can be added which hasn't been mulled over countless times before.
Suffice to say, those of us of a certain age, whose music The Beatles became a rite of passage and a bellwether for our curiosity and emotions, seemed to stop; seemed to be just be too sad to listen to, became that point where we suddenly grew up and felt very very old.
Did we take John Lennon for granted over the years? Of course. We thought we would all get old together – Lennon at 90, imparting wisdom based on his take on things. Did we ever think The Beatles would get back together? Despite those periodic questions posed by breathless interviewers over the years, it didn't seem possible nor would it seem like a good idea. Things changed, the music changed. Paul McCartney once said in an interview that, if The Beatles were still together and had never broken up, they may have wound up sounding a bit like Radiohead – but we'll never know.
I remember when Double Fantasy was released. I don't remember it being instantly embraced by the critics or the audience at first. After Lennon's death sales skyrocketed and Just Like Starting Over was played almost constantly on every radio station all over the world. But just before then, just before the events which took place on December 8th, the album was released and a lot of people cringed – the Music and the message sounded dated. Many felt it would sell to the fans and the die-hards, but after a while sales would drop off because a new audience wouldn't be reached and couldn't see the relevance.
But time and events changed all that – and with the passing of George Harrison in later years, the legacy of The Beatles and the message they brought with them at the time, a sense of urgency has overtaken things. We listen now as if looking for buried messages – we eagerly snap up new mixes, as if some previously undiscovered element will now come to surface and it will all make sense – the key to life will be revealed.
And maybe we just hate the idea of getting older, and eventually getting old, and our heroes have gone before us, as have our friends and the people we felt a bond to. And all those pivotal and important times we swore up and down would never end are, one by one, fading away.
So maybe it's not just lamenting the loss of John Lennon 42 years ago this night, as much as it's losing ourselves and our perpetual youth and facing the reality that forever just doesn't mean forever anymore, as if it ever did.
Here is a collection of newscasts and bulletins, from December 8, 1980, the day John Lennon died.
As you know, we've suspended indefinitely our ads in order to make Past Daily a better experience for you without all the distractions and pop-ups. Because of that, we're relying more on your support through Patreon to keep us up and running every day. For as little as $5.00 a month you can make a huge difference as well as be able to download all of our posts for free (news, history, music). You'll see a banner just below. Click on that and become a subscriber – it's easy, painless and does a world of good.