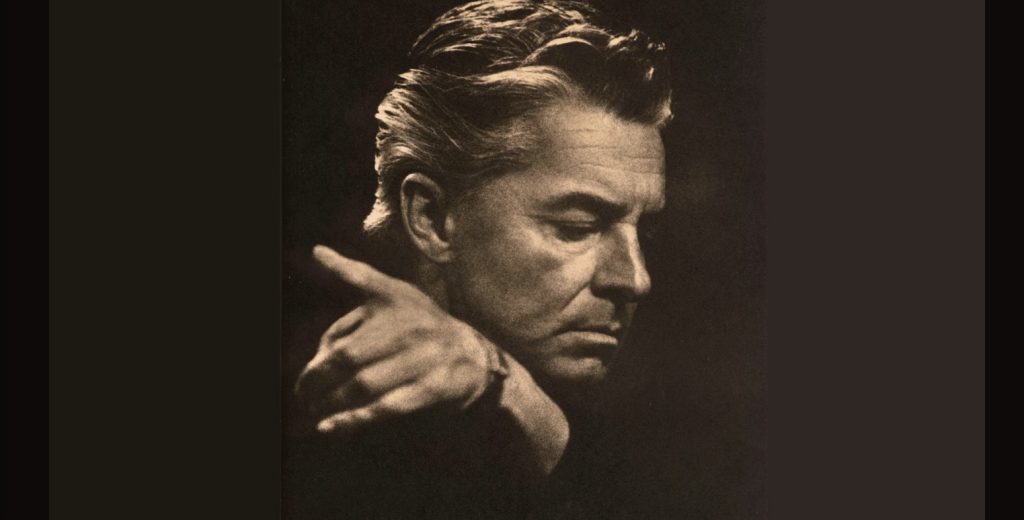 Word With Herbert von Karajan – 1974 – Past Daily Talking Music.
Herbert von Karajan in conversation with Caspar Citron – November 26, 1974 – Gordon Skene Sound Collection –
Herbert von Karajan, whether you are a fan of Classical music or not, is a name you no doubt know. Especially if you were around anywhere from the mid-1950s on.
Considered the Classical Music equivalent of a Pop Star, von Karajan's records sold in the millions (something relatively rare on that side of the music business) and his visibility extended from Gramophone to People Magazine. If anything, Herbert von Karajan brought Classical music to a vast worldwide audience, many of whom were not familiar, and created a presence. Like his contemporary Leonard Bernstein, Herbert von Karajan did a considerable amount to raise consciousness in the Arts which was, and still is, a good thing.
Even though von Karajan left us in 1989 his recordings are still in print. Massive CD box sets are devoted to his complete recording career and his live performances are still very much sought after by collectors all over the world.
This interview, conducted by Caspar Citron, takes place in New York during the Berlin Philharmonic's 1974 tour and participation in a series of broadcasts sponsored by Exxon-Mobil. Although Herbert von Karajan was probably one of the most recognized musicians on the planet, he did comparatively little in the way of interviews, so this one with the American press is something of a rarity.
Karajan's concerts came to be considered major cultural events. In a 1982 tour of the United States, musical stars from Zubin Mehta and Seiji Ozawa to Frank Sinatra attended his Carnegie Hall concerts. Karajan was less interested in publicity or legacy than in building the cultural institution of music. "When I am on the podium, I forget all about the public," he said. "I am not interested in publicity. I can only hope there is an advantage to my being known in the world, that through the interest people take in me, they will then move on to an interest in music."
Much of Karajan's legacy is inextricable from his pioneering attitude toward recording technology. He made over 800 recordings, far surpassing the output of other contemporary conductors. Deutsche Grammophon said his albums sold "probably hundreds of millions" of copies. The West German newsweekly Der Spiegel reported that he earned more than $6 million annually from record sales and conducting fees in 1989. Karajan amassed a fortune valued at 250 million euros as of 2008, remaining one of top-selling classical music artists two decades after his death.
As a reminder or introduction, here is that interview with Herbert von Karajan from November 26, 1974.
You can help support Past Daily by subscribing and take advantage of exclusive free downloads. Cool, yes?
As you know, we've suspended indefinitely our ads in order to make Past Daily a better experience for you without all the distractions and pop-ups. Because of that, we're relying more on your support through Patreon to keep us up and running every day. For as little as $5.00 a month you can make a huge difference as well as be able to download all of our posts for free (news, history, music). You'll see a banner just below. Click on that and become a subscriber – it's easy, painless and does a world of good.