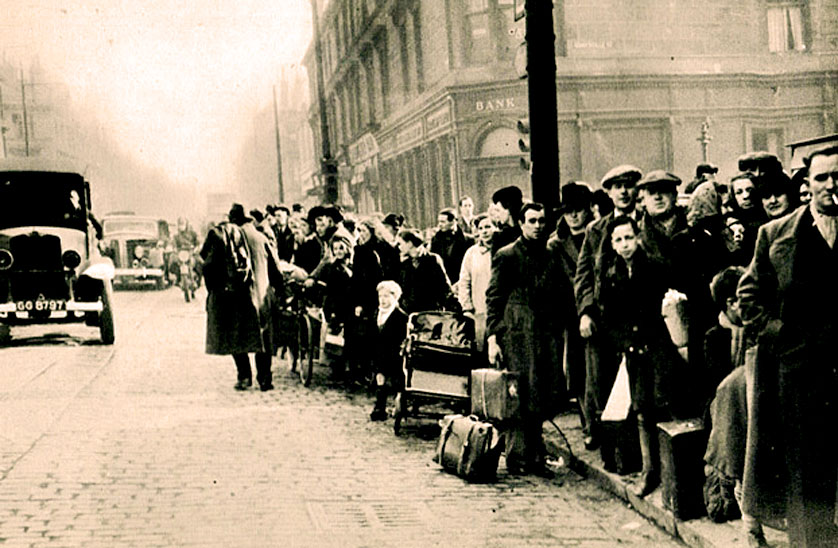 Europe At War – 520 Days. . . And Counting – January 31, 1941
– NBC-Blue Network – News Of The World – NBC Newsroom Of The Air – January 31, 1941 – Gordon Skene Sound Collection –
News for this January 31st in 1941 was about the War in Europe. Still "the war in Europe" as America was still sitting on the sidelines. News from London reporting the daylight air-raids were getting more vicious. The casualties were soaring as the air-raids were now taking place during working hours when most people in London were heading to work, or what was left of work.
U.S. Representative and former Republican Presidential candidate Wendell Wilkie escaped injury from one of the raids, but was still in the midst of his "secret inspection tour" of Britain.
Hitler made an address the night before where he claimed a "quick peace" was in the offing – although no one in Britain was aware of it. Hitler did make a blunder by threatening war with the U.S. and stepping up sea attacks on American shipping. It was one more element in an ever increasing atmosphere of U.S. involvement. The speech, which lasted over an hour was translated into 31 languages and broadcast all over the world. Further evidence the War of Words was ramping up.
Meanwhile, on Capitol Hill – the Hitler threats didn't daunt voting on yet another Lend-Lease Bill, which was expected to pass handily within the next day or two. Despite troubles brewing with Labor and possible strikes, the Defense Industry was stepping up production.
On other War fronts – things weren't going well for the British in North Africa, with German bombers assisting the Italian Army throughout the Mediterranean. The German influence was a morale boost for Mussolini and the Italian Army, who up to this point had been suffering heavy losses.
Just a sample of what went on this day in Europe and America in 1941, as reported by NBC Radio's Blue Network News Of The World And NBC Newsroom Of The Air for January 31, 1941.
If you're a fan of Past Daily (and I know a lot of you are) and would like to subscribe via Patreon, you can get 7-days for free to sample downloading this and the other 10,000+ posts we have to offer. Kind of a bargain and certainly a win-win proposition. So give it a shot:
As you know, we've suspended indefinitely our ads in order to make Past Daily a better experience for you without all the distractions and pop-ups. Because of that, we're relying more on your support through Patreon to keep us up and running every day. For as little as $5.00 a month you can make a huge difference as well as be able to download all of our posts for free (news, history, music). You'll see a banner just below. Click on that and become a subscriber – it's easy, painless and does a world of good.