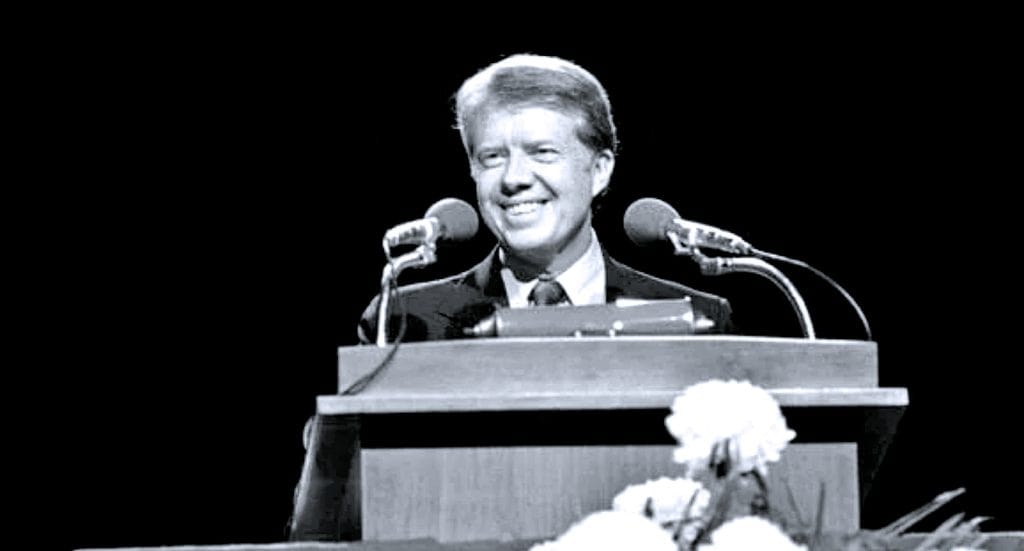 Jimmy Carter – National Press Club – March 2, 1978 – The Carter Era
President Jimmy Carter – Press Conference – National Press Club – March 2, 1978 – Gordon Skene Sound Collection –
Earlier on this day, President Jimmy Carter went before Congress, asking that the Civil Service System be reorganized. His reason was simple; time to reward merit and penalize incompetence in the Federal Bureaucracy. He wanted to replace the then-95 year old Civil Service Commission, which controlled hiring, promotions and dismissals for the 2.1 million Federal employees, with two new agencies: One, an office of personnel management and the other, a merit system protection board which would protect employee rights.
The Civil Service question became something of a centerpiece for this press conference, held at the National Press Club on March 2, 1978. In addition to the reorganization proposal, several questions were brought up concerning the deteriorating Dollar, to which Carter portrayed the current economic climate as disorderly bordering on the chaotic, but which Carter added that the Dollar, no matter what, was going to remain in good shape. Other questions from the Press, which were pre-written and not of the usual "shouting to be heard" Press Conferences, focused on the Coal Strike and whether or not the Administration waited too long to intervene to end the strike – Carter gave an emphatic "no".
There were also questions regarding the Middle-East peace process and upcoming meetings with Menahem Begin, which was to be the third such meeting Carter was slated to have with the Israeli leader since Begin took office. The issue, as always, was one of finding common ground between the Egyptians, Jordanians and Israelis with issues specifically relating to the Sinai.
Back to the Civil Service issue with questions to President Carter regarding whistle blowers and whether or not the proposed revamping would also include protections for those actions by employees.
And finally – a question regarding the possibility of a Conference on White House Etiquette anytime soon. Seems a 33-page report on the social faux pas of White House Chief-of-Staff Hamilton Jordan, who tossed an Amaretto and Cream at a young woman in a Washington D.C. Singles bar raised a few eyebrows and hackles around the West Wing. The Press were curious to know if this was going to become the basis for a guideline on White House do's and don't's of good dating or not. The Press laughed – Jimmy Carter chuckled and another Press conference came to an end.
Here it is, exactly as it was broadcast on March 2, 1978.
As you know, we've suspended indefinitely our ads in order to make Past Daily a better experience for you without all the distractions and pop-ups. Because of that, we're relying more on your support through Patreon to keep us up and running every day. For as little as $5.00 a month you can make a huge difference as well as be able to download all of our posts for free (news, history, music). You'll see a banner just below. Click on that and become a subscriber – it's easy, painless and does a world of good.