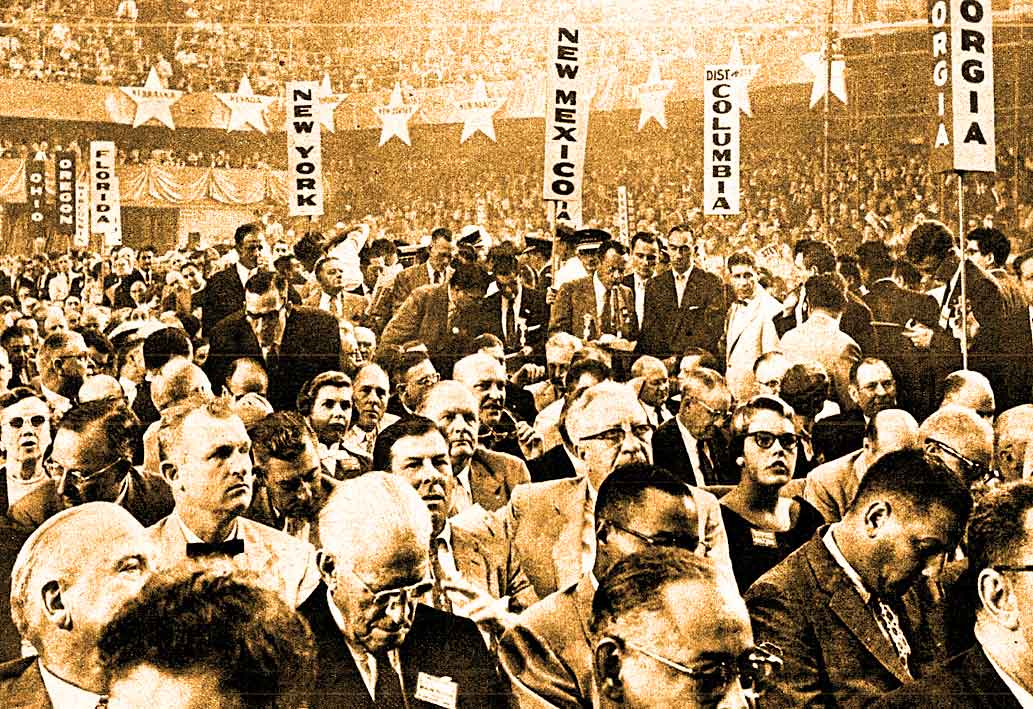 Democratic Convention Preview – July 5, 1960
– Democratic Convention Preview – NBC Radio Special – July 5, 1960 – Gordon Skene Sound Collection –
Sixty-three years ago this week, the Democrats got together in Los Angeles to select a standard-bearer. Odds-on favorite was Massachusetts Senator John F. Kennedy, although there were a few hold-outs, among them, Texas Senator Lyndon Johnson. The other issue was, if Kennedy was nominated, who would be his running mate?
Contrary to how Conventions are run now, several decades ago it was a horse race all the way up to the last minute – with bargains struck, favors granted, promises made and suspense a part of the American political process.
In this half-hour special (actually 2-15 minute reports), the pulse of the delegates was scrutinized, the word on the street was mulled over and the speculation of what was going on the "smoke-filled rooms" was rampant. A far cry from the cut-and-dried affairs that have characterized our nation's ritual.
For a half hour you'll hear what was going on in Los Angeles, the week before the Democratic Convention got underway, and what to expect over the coming days.
All on July 5th 1960 as captured in Special Reports from NBC Radio News.
And while you're here . . .you know we don't run ads – stopped running them more than a few years ago. The ads were noisy and pretty awful and they were a huge distraction, having to wade through a lot of useless barking in order to get to the good stuff. But we still have to pay the bills, and there's a ton of them and they don't like to wait. And so we ask you consider becoming a subscriber and support all the stuff we do every day by kicking in what amounts to being an Americano Grande every month to be part of the solution and not the problem. In todays bizarre economy it ain't much – but it means a ton to Past Daily. All you have to do (and we make this as simple and pain-free as possible) is head over to Patreon (that red box just below that says "Become A Patron" that you click on) and check us out. You can do 7 days free just to kick the tires and take a test drive. And if you like us, hit the subscribe button and become part of our rather haywire little family. Not bad, considering we just want you to like us.