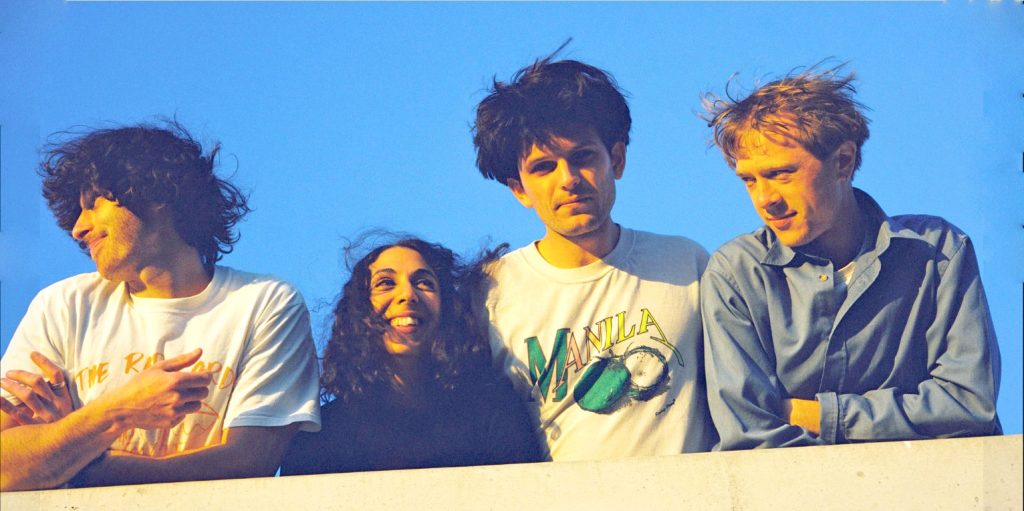 Holiday Ghosts – In Session – 2023 – Past Daily Soundbooth
– Holiday Ghosts – in session for John Kennedy Ex-Posure – July 7, 2023 – Radio X –
Holiday Ghosts to kick the week off. Recorded earlier this past weekend via John Kennedy's Ex-Posure program on Radio X.
This little blurb from Marcy Donelson at AllMusic.com:
Taking inspiration from vintage garage rock, surf, and bands like Violent Femmes, Holiday Ghosts' clattering, playful indie tunes emerged in 2017 with the band's self-titled debut, which also drew on early punk influences. Still loose and rooted in the '60s, they established a sweeter, cleaner sound on West Bay Playroom in 2019. North Street Air followed in 2021.
Originally a solo project by multi-instrumentalist Sam Stacpoole, then a duo with singer/drummer Kat Rackin (the Black Tambourines), Holiday Ghosts expanded into a full band over the course of five years, recording an eponymous debut with additional members Ben Woods (bass/vocals) and Charlie Murphy (guitar/vocals). Stacpoole, Rackin, and Murphy all contributed songwriting to the album. Recorded in the group's base of Falmouth, England, Holiday Ghosts was issued by PNKSLM Recordings in September 2017.
With the retooled lineup of Stacpoole, Rackin, guitarist Charlie Fairbairnon, and bassist Ryan Cleave, they followed up with the more tuneful West Bay Playroom in February 2019. Third album North Street Air featured the lineup of Stacpoole, Rackin, and Murphy. Released in 2021 on FatCat Records, it was partly inspired by a relocation to Brighton.
With their fourth album out and selling wonderfully well, Holiday Ghosts is preparing for the Summer onslaught of festivals and club dates for the next few months. No word if they will make it over to the States at all, but it's always hoped.
In the meantime . . .